Story by and Photo Luke Nankivell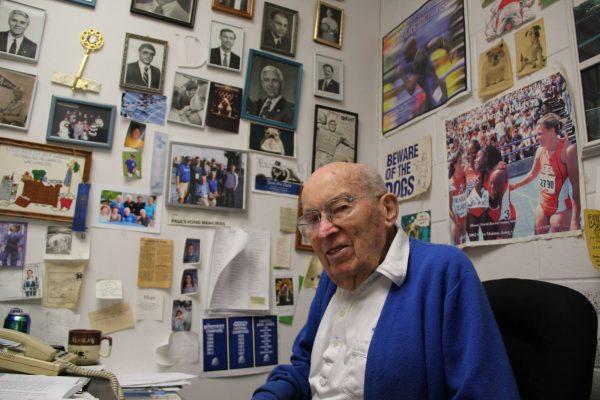 For generations, Paul Morrison has been synonymous with Drake University. The middle child of five, Morrison attended Drake in the 1930s. The Drake community has since fallen in love with Morrison, appreciating his dedication to the university.
Now 97 years old, Morrison has been a part of the Drake athletic department for more than 65 years, inspiring and connecting with countless Drake students, employees and volunteers.
In February 2012, the Des Moines City Council approved an honorary street naming in his honor. Forest Avenue between 25th and 31st streets has since been named Paul F. Morrison Way.
The Times-Delphic sat with "Mr. Drake" to find out more about all the memorable events that have happened in his Drake career.
TD: What was the most creative prank you saw when you were a student here at Drake?
PM: Every now and then, students would climb up into the bell tower in Old Main and ring the bell. We also used to have Skip Day, but we don't have it nowadays. I don't think the university liked it. It became a little more destructive than intended, and I think that was a major part of them getting rid of it.
TD: Did you pull any pranks when you were a student?
PM: No, I don't think so. At least none I would confess to.
I was the middle child of five kids. I have two younger sisters and two older brothers. Neither of my brothers attended Drake. My family ties go back to 1902 when my parents met. But they never put any pressure on me to go to Drake. It was just something I wanted to do.
TD: What brought you back to Des Moines after graduation and your other jobs?
PM: I graduated in '39, and I went to work for the state safety department, and I worked as a clerk in the driver's license division. And then I got a job at the Cedar Rapids Gazette, where I grew up. I worked as a proofreader, and then I was drafted out of that office. In fact, I won a $9 prize because I was the first male from the staff that got drafted. So I was in service for 55 months. But I was lucky because I ended up editing a division newspaper in New Guinea and the Philippines.
Then I came back to Drake. They decided to make the news bureau job a full-time employee, and a friend of mine who was in Alumni Affairs said, "Well you need to hire Paul Morrison for that job." So I was, in fact, the first director of what's now called University Communications. I was there several months, and they decided in the athletic department to make the athletic communications job full-time, and so because of my love of athletics, I went over to the athletic department for a few years. Then I decided to go back to the news bureau, and now I've been back in the athletic department for 1,000 years.
TD: Looking back, what is your fondest memory of Drake during your time here?
PM: In 1951, we won the three major relays, the 4×400, 4×800 and the mile, which was unheard of in those days. Some people would criticize Drake because we didn't do hardly anything in the Relays, as far as our track team was concerned. But the point of the Relays was to bring in the best talent we could, and it would really not be fair to match us against all the talent that we brought in.
TD: Would you say that's your favorite athletic memory at Drake?
PM: Well, I always go back to the 1951 Relays, but we used to play Iowa State in football on a regular basis. One of my favorite football memories is when we beat them by something like 30-0. And when you can beat Iowa State, as far as Drake's concerned, well that's something.
TD: What made you never really retire, but instead come back every day?
PM: I guess it's the students. We have such a unique student body, and it's been that way for a long time now. As I say, I've been retired longer than some people have worked. I don't know what I'd do, really. I'd kind of go crazy. Coming to work every day, it's a joy as far as I'm concerned. Drake's a great place. It's been a lifetime love affair.