Photos: Joey Gale
As the golden Pioneer Football League trophy entered the field, the excitement in Drake Stadium was tangible. The journey for the PFL trophy was a long one, one that began in Africa and ended right here in Des Moines. Drake claimed at least a share of the PFL title with a 37-14 win over Dayton last Saturday.
"You dream and you hope and you work hard," head coach Chris Creighton said. "I believed that a team has to become special in order to win a championship, and I think this team became special, I really do. I think programs or teams that win championships year-in and year-out are special programs, and that is kind of what our next goal will be, not to be just a once in awhile thing."
Drake (9-2, 7-1 PFL) had a rocky start to the game. Only 6 minutes and 15 seconds into the first quarter, senior quarterback Mike Piatkowski threw an interception that Dayton returned for a 29-yard touchdown.
The Drake offense retaliated with a 39-yard score from Piatkowski senior Drew Blackmon. Fifth-year senior kicker Billy Janssen missed the extra point, and the Bulldogs trailed the Flyers by one point.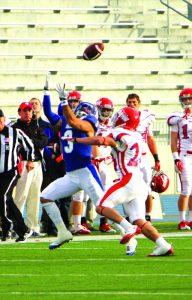 Early in the second quarter, fifth-year senior running back Pat Cashmore put the Bulldogs on top with a 2-yard touchdown run. Drake didn't give up the lead for the rest of the game.
The Bulldogs headed to the locker room with a 16-7 lead, thanks to a 32-yard field goal by Billy Janssen late in the second quarter.
With 9:45 left in the third quarter, Blackmon had his final touchdown as a Bulldog with a 4-yard catch on a pass from Piatkowski. It was the 13th touchdown reception of Blackmon's career.
Three minutes later, the Flyers responded with a touchdown, pulling within 23-14.
With four minutes left in the third quarter, junior wide receiver Nick Rosa made an impressive catch in the end zone from 25 yards out to extend the Bulldog lead to 16. Cashmore said that was when he knew that the Bulldogs were in great position for the win.
"It had to be in the middle of the third quarter after we had that deep touchdown to Nick Rosa, I just knew that one was a dagger," Cashmore said. "He got that one foot in, and I just knew. Our defense doesn't give up a lot of points, and so they bend, they don't break. I just knew after that touchdown, I just had a feeling that we just needed to keep putting our foot on the pedal, and we did that. And our defense played awesome."
Drake finished out the scoring with a 6-yard toss from Piatkowski to junior tight end Kevin Marshall. This was Piatkowski's 25th touchdown of the season, putting him second on Drake's all-time list for touchdown passes in a season. He sits behind Ira Vandever, who had 32 touchdown passes in 2002.
"It's a great feeling," Piatkowski said. "It's been four years waiting for it, and it's just awesome."
Drake hadn't beat the Flyers since 1995, and the 37 points are the most the Bulldogs have ever scored on Dayton.
"This team has been our arch-nemesis for the last four years," fifth-year senior cornerback Michael Lahart said. "We hadn't beat them yet, so not only to win on our home field to win a championship is sweet, but having to come against Dayton, such a good football team, just makes it that much sweeter."
Creighton won the PFL title for the first time in his four-year tenure at Drake.
"It feels good," Creighton said. "Dayton, I'll probably be getting hissed at and fruit thrown at me for saying this, but they, in my mind, truly are the model in this conference. Coach (Rick) Chamberlin is absolutely first-class…They've been the model, and you've got to the beat the best in order to be at the top, and so it truly meant a lot by playing the Dayton Flyers for this to happen."
Drake had one loss in PFL play, along with San Diego and Jacksonville. Those two teams will play each other next Saturday. The Bulldogs will be crowned co-champions with the winner of that game. The Bulldogs lone PFL loss came at San Diego on Oct. 15, but Drake defeated Jacksonville on Nov. 5.