Meet the 2023 Student Senate Candidates
Voting for the Drake Student Senate elections open on Thursday, March 30 at 8 a.m. and will remain open until the following day at 8 p.m. The election will most likely go into a runoff in which case polls will reopen at 8 a.m. on April 3 and close April 4 at 8 p.m. Results will again be read at Pomerantz Stage in Olmsted Center at 9 p.m.  
Editors Note: The following Q&A's have been lightly edited for style and clarity.
---
Vice President of Student Life Candidates
Graciela Breton-Solano, Junior 
How do you plan on making the role of Vice President of Student Life your own? 
I plan to make the role of Vice President of Student Life my own through working on further community building, maintaining organization and keeping transparency between the student body and Student Senate.
What inspired you to run?
When I came to Drake, I knew one of my goals was to become involved and I strived towards leadership roles. Before college I never was one to be involved in extracurriculars, especially not student governance. I knew that I wanted to change that when I came to campus, and I right away was interested in student senate. I've already enjoyed my role within Student Senate as Equity and Inclusion Senator and would love to continue that as VPSL. With the role of VPSL I'd have the opportunity to guide and organize student senators, which I am more than willing to do!
What changes do you want to implement through this role?
Something I'd like to implement through my role is to create more opportunities for student senate to bond as well as more volunteering/community events that Student Senate can participate in. I understand we are all super busy with school and other things, but I think it'd be really awesome to see student senators being more hands-on within the Drake and Des Moines community. 
How will the Drake community benefit from having you as Vice President of Student Life?
I think that the Drake community benefits a lot from diverse voices and having me brings in new perspectives to the role. Being a first-generation Mexican American student, I know the importance of making sure all students are heard. One of my platform points is community building, which to me entails equity and inclusion. I want to ensure that all senators are heard and that diverse opinions and conversations are facilitated. 
---
Ben Connolly, Junior
How do you plan on making the role of Vice President of Student Life your own?
My run for VPSL comes from my passion for building and sustaining community, so it is my goal to make the position my own by having a greater platform to invest in people. I lead with a genuine interest in students and their goals, bringing community ideas to life as a peer advocate. Additionally, I have the people skills necessary to manage the Senate as VPSL because I care deeply about the image of Senate and how we reach out to students.
What inspired you to run?
I am inspired to run on a platform of continuous development, inviting support, and uplifting community because I trust in leaders who seek to build up a body of people for the energy they bring. Drake involvement has challenged me to prioritize my passions, and running for VPSL reminds me of what matters: being able to lead effectively with a mental health focus. As a future educator, Senate leadership is a crucial building block; I share and acquire teaching knowledge by recognizing the voices and values of students to further my own!
What changes do you want to implement through this role?
I hope to destigmatize and move away from the "Drake Busy" and "Drake Balanced" formula altogether; it is a gimmick, not a manageable lifestyle we should be marketing to our students. I aim to normalize taking breaks from involvement at Drake because supporting our leaders at every growth stage builds them up. I wish to extend Senate's "Your vision is our mission" motto to recognize the students, campus leaders, and organizations that bring Drake spirit to our campus. I see a need for increasing Senate outreach through marketing, programming, fundraising and volunteering initiatives which students should know about. These problems don't get solved if people aren't involved.
How will the Drake community benefit from having you as Vice President of Student Life?
The Drake community benefits from electing a leader like me who has previous Senate involvement is well-acquainted with campus happenings and the students who share in the Drake experience, and who values the long-term success of the Drake Student Senate. I am both people-oriented and committed to providing a positive experience for our students, and this shows in my approachable nature and inclusive vision.
---
Breckyn Lyons, Junior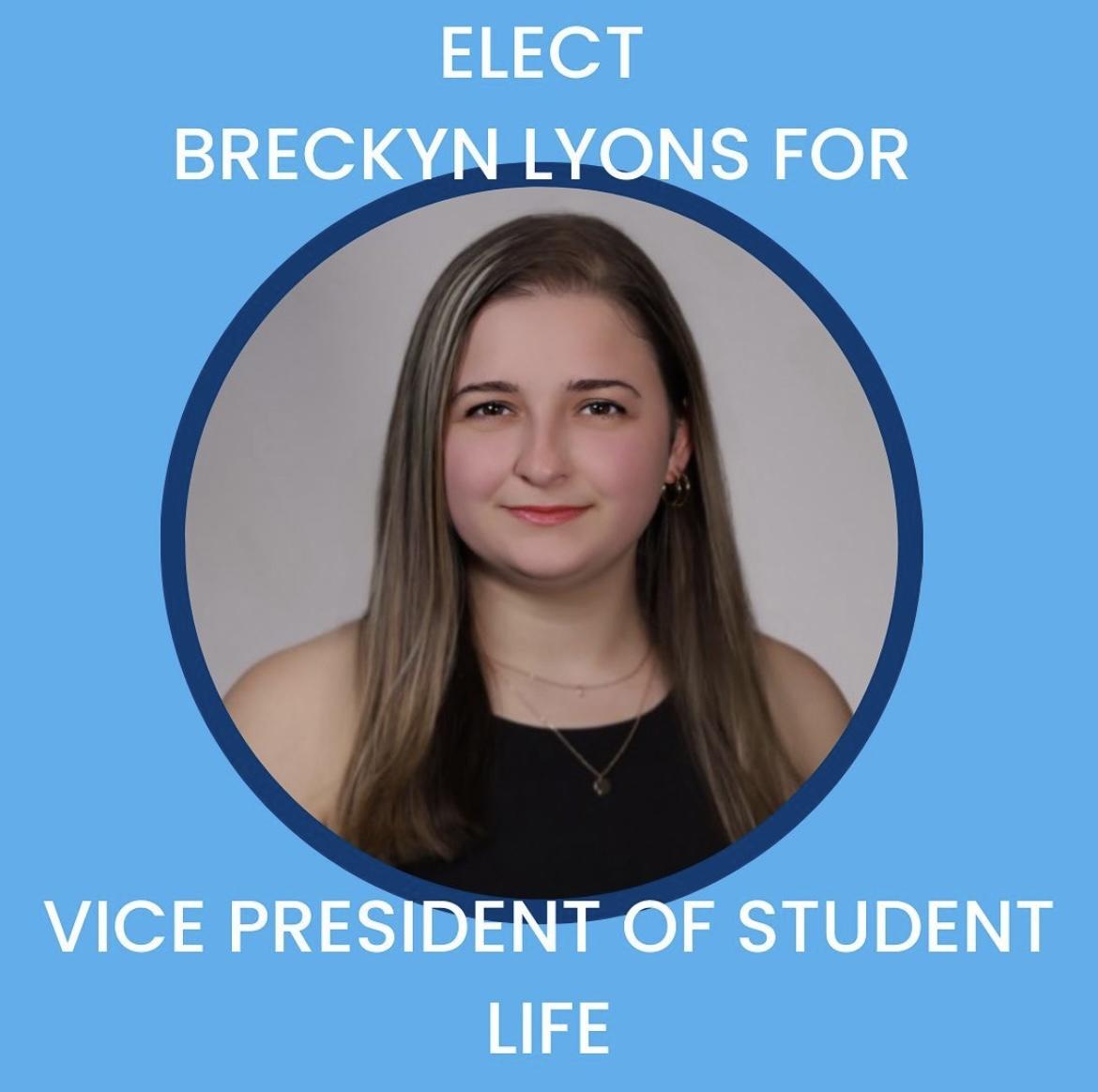 How do you plan on making the role of Vice President of Student Life your own?
I plan on continuing to build off of the work of past VPSLs to continue to make Senate as an organization stronger and to support the senators within their own pursuits. While this role does focus on a lot of internal organizing and operation, the work we do as a Senate impacts all students and in having a strong VPSL, you can ensure there will be a strong Senate. Internally, Senate currently has a lot of great resources and programs structured to facilitate transparency, communication, and accountability, not only within the organization but with the greater student body and with administration.
While the internal measures have worked, we clearly have a lot of work to do to make Senate more transparent, communicative and accountable to our student body. I hope to re-evaluate these resources and programs to determine the best path forward for this upcoming session to ensure students know that they have a voice that is valued and heard by the leaders who represent them around the table and with administration.
What inspired you to run?
I was inspired to run because I have truly found purpose within my role in Senate and serving the student body here on Drake's campus. While I have been able to assist with initiatives and programs relating to health and safety throughout this year, I see that our campus still has a long way to go in many different areas – and I want to continue to help. Senate truly touches the lives of all students on our campus and I want to be able to contribute to a better campus experience for every person who comes to Drake.
What changes do you want to implement through this role?
I am running on a platform of transparency, communication and accountability and I plan to address each of these issues on both internally and externally if elected. In the area of transparency, I hope to make accessing what Senate does easier. While we utilize a Linktree and livestream our meetings, these resources are not well-known about and we can do better to reach our student body. I think we have an obligation to find the ways that students access information best and I would like to find out what those ways look like with students themselves.
I also strongly believe that having strong communication within the group will contribute to our success in serving as your student leaders. I would love to build off of the tools previously introduced – such as our pods that foster relationships between exec members and senators and semi-regular check-ins – to allow for easy and regular communication between the Senate as a whole. This communication within will help us be able to have clear understandings of the inner happenings which will allow us to better communicate with the student body. 
Additionally, I believe communication leads to connection which will open the door for more collaboration and fosters a space where conflicting thoughts can be shared and respected. In terms of accountability, I feel that we must hold ourselves and our teams accountable to the work we promised our student body we would do. I feel that this not only comes in the form of helping facilitate self-accountability within senators and utilizing the internal mechanisms to do so but also being more open and clear with the student body as to what we want to see happen so that they can hold us to it as well.
I would love to see greater interaction between Senate and the student body and think holding semesterly student town halls to discuss issues would be a great way to continue to hear from students but also give students a platform to hold their leaders accountable. In maintaining the ideals of transparency, communication and accountability, as a Senate, we can better serve the needs of students and be the leaders students want and need us to be.
How will the Drake community benefit from having you as Vice President of Student Life?
​​The Drake community will benefit from having me as Vice President of Student Life due to my strong relationships with our administration and staff, my proven ability to commit fully and follow through and my drive and desire to show up and serve as a voice for all students. From the first day, I will be able to serve our student body well by leveraging the relationships that I have made with our administration and staff as I am a respected and valued voice in conversations. While these relationships can help in crafting meaningful change on our campus, I feel that ability to actually follow through is just as important of a factor. 
Over this past year, I have put in countless hours to follow through on the promises I made while running for Senate last year. I have championed new mental health initiatives and resources by serving as a student voice in the rollout of our new telehealth service, Uwill, in conversations about the usage of our new holistic wellness fee, and in bringing the pet therapy and Midterm and Finals Destressing events. I also established a relationship between Senate and Public Safety with our semesterly Safety Walks, providing an opportunity for students, Public Safety and Facilities to come together to assess safety issues that we would like to see addressed on campus.
While these are just a few examples of the work that I have done, I have worked tirelessly to make our campus better and I will continue this work with this new role. Finally, I am genuinely optimistic about the campus we can be and I have a passion to serve you all as we move forward as a university. I am driven by the fact that I know we can be better and will be better. This strong foundation will help me be a strong VPSL which I feel will ultimately lead to a strong Senate – and the stronger we are as a session, the more capable we are in serving you, the student body.
Is there anything else you would like to say that I didn't ask?
If you'd like to see more about my platform or have any questions, comments or concerns, please feel free to reach out to me via Instagram at @lyonsforsenate or via email at breckyn.lyons@drake.edu. While I have the belief that I can serve you well, I need your belief as well and I'd love to have a conversation if you don't believe in me fully!