On the first day of the spring semester, Drake University launched new virtual mental health services for students in partnership with the telehealth company Uwill.
Through app.uwill.com, students have access to a 24/7 crisis line, virtual counseling and wellness programming on their personal devices. 
"[There are students who] just want to do yoga," said Michael London, founder and CEO of Uwill. "They just want to find out how to sleep better, and they want to use some wellness [programming]. Then you'll have students who want therapy. Then you'll have a student who has a bad situation someday, and they need something." 
On Dec. 1, Chief Student Affairs Officer Jerry Parker told Drake's Student Senate about plans for expanded mental health services and potential amounts for a student wellness fee. Since then, Drake's Board of Trustees has approved the fee to begin in fall 2023, he said. 
Full-time undergraduate students will pay $150 each semester, while part-time students will pay $45 a semester. The fee varies for students in different Drake programs.
Parker said on Dec. 12 that donor funds would allow Drake to launch the crisis service and virtual counseling before the start of the wellness fee.
"This was a one-time gift so the holistic wellness fee will allow for these initiatives to continue into the future," Parker said.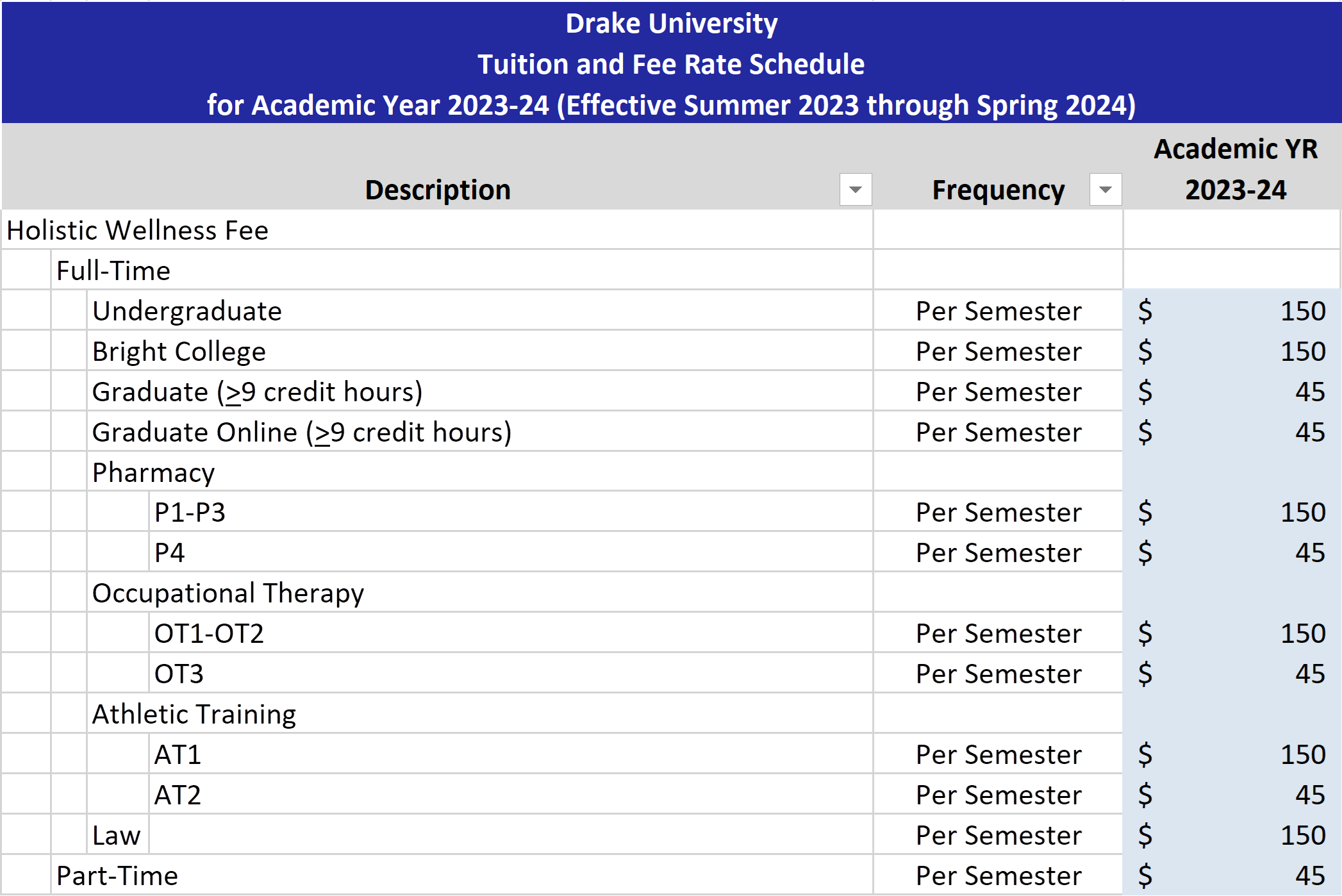 Virtual counseling 
When a Drake student logs into Uwill, they have 60 credits to purchase virtual counseling. A 30-minute video or telephone appointment costs 30 credits, a chat appointment costs 15 credits, and a message exchange costs five credits. 
In an email message to students, Parker said students will be able to choose a therapist based on their preferences, "including availability, issue, gender, language, ethnicity, sexual orientation, race, disability, and others." 
"Students will be asked certain questions as to what they want and need in a therapist or what they think they want," London said. "And then they're matched to a number of therapists that meet their needs. And then the students would actually read about each therapist and make the choice themselves."
If a student uses their two sessions and their therapist thinks further counseling could be beneficial, the student will be referred to the Drake Counseling Center, Parker told The Times-Delphic over email. Drake students in Iowa can receive other virtual counseling through the university, while Uwill counseling is available out of state. 
At that point, the Counseling Center will decide whether the student would be best served by Drake's services or another Uwill session or two, Parker said. He said the Center would receive notifications when students use Uwill.
Additionally, the student could pay or use their insurance for sessions through Uwill, according to London. 60 credits cost $150, while 300 cost $600. London said that "very few users purchase additional credits, less than .5%." 
In similar programs, Western Michigan University also offered a set number of Uwill sessions to students, while Dartmouth College offered unlimited sessions. 
Wellness on Demand
In Uwill's wellness service, students can follow along with wellness programs covering topics like yoga, meditation, mindfulness, sleep, and nutrition, according to London. 
London called it "free wellness Netflix" and said the content is "geared to the needs of a student." For example, some of the wellness videos are presented as "Study Breaks."
"There are people in the world who will never use therapy. There are people in the world who will use therapy," London said. "When it comes to wellness, I think there are a lot of people who like it or like some aspect of it. So for me, it broadens the number of people who might want to receive assistance within our environment."
What to expect from Uwill's crisis line
In the December meeting of Drake's Student Senate, Parker said he'd heard the wait time for a crisis service can be 30 or 45 minutes to an hour. The "large majority" of callers of Uwill's crisis line wait 30 seconds or less to talk to someone, London said. 
"I think the crisis piece is also usually a place where we are truly 24/7/365," London said. "We are truly a direct connection with a licensed therapist trained in trauma. That said, it's not realistic, I don't think, for most campuses to be able to offer something like that." 
The crisis line's number is 833-646-1526. 
When a crisis situation comes to light, Drake's response will depend on the individual situation, Parker said over email to The Times-Delphic. If a student presents a risk to self or others, a Uwill clinician is obligated to immediately contact the Dean of Students on-call, he said. 
Parker said that "if a student's safety [and/or] public risk is identified" during a call to the hotline, "the clinician will seek to deploy techniques to reduce the risk and stabilize the situation."
London said Uwill's therapists will have access to Drake's planned response to crisis intervention, but they also have to use their best judgment. If Drake's protocol asked them to contact the Dean of Students Office, they would do so, but "they are going to do, possibly, other things that they feel they should do in the moment."
"If [Drake's protocol] said, call 911. Or if it said, notify Public Safety… we're likely to do that unless the person on the phone thinks it's a bad idea given what they are hearing," London said. 
The Times-Delphic plans to further cover Uwill and the wellness fee in the future.