In response to racist threats disseminated across campus, thousands of  Drake community constituents joined together last Wednesday to both support students of color and condemn rampant acts of racism.
BY KRISTEN TOLLAS
Over 3,500 people gathered in solidarity at the Do Better. Rally Together. rally held at Helmick Commons at Drake University this Wednesday.
Student Equity Action Partners, an advocate and consultation resource on campus, organized the rally with the support of approximately seven other multicultural organizations.
DU Spoken Word artists, Sarah Rosales and Anthony Adame, performed a piece they wrote titled "Dear White Man," and Rosales sang the powerful words to Beyoncé's "Freedom". The crowd was silent as they listened to the compelling voices of these two students and erupted in applause when they finished.
Sarah Rosales and Anthony Adame were two of many Drake University students who spoke at the rally. Rep. Ako Abdul-Samad of Iowa and Godfried Asante, a professor at Drake, spoke about recent incidents on Drake's campus as well.
Over the last month, four handwritten notes containing racist threats were slipped under four first-year students' doors on Drake's campus. Two days prior to the rally, Drake's campus was also subject to robocalls from a white-supremacist group. The rally that was held in opposition of these events was also a call to action for Drake students to stand against racism and hate.
Erin Lain, associate Provost for campus equity and inclusion, said that students at Drake and across the country are in a unique point in history where they are empowered to stand up against bigotry, racism and hatred.
"I think the challenging part for all of us is that sometimes these issues feel so big that they feel overwhelming," Lain said. "It doesn't mean that we can shut down and not do good work. We have to keep going."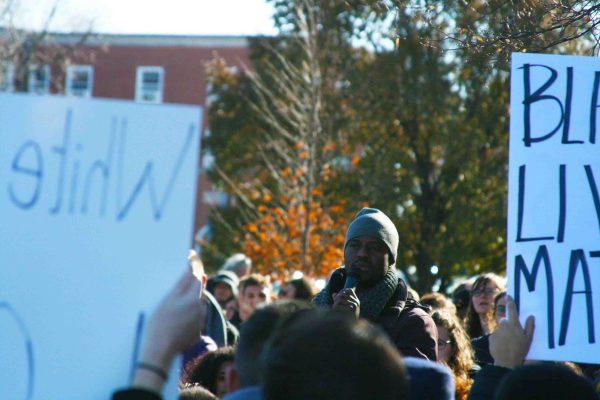 Just under 22 percent of Drake's incoming first-year class in 2017 identified as part of a minority group. Drake is one of many predominantly white institutions. There are acts of racism and hate that occur daily on our campus and across the country, Lain said.
"I've experienced a lot of microaggressions here on this campus and in my lifetime," said Morgan Coleman, a representative of the #PaintitBlack Project, a community organization created by active advocates against racism on Drake's campus.
"Whether it's people saying they're astounded at how articulate I am or making comments about my hair, because my hair is natural, it's just little things like those that add up," Coleman said.
On Nov. 16, The #PaintitBlack Project as well as Drake students made a statement against the recent incidents by painting Drake's famous Painted Street in a thick layer of black paint. Drake's Painted Street tradition will return during Drake Relays in April.
Speakers at the rally on Nov. 14 expressed their desire to see Drake's campus do better regarding acts of racism and hate.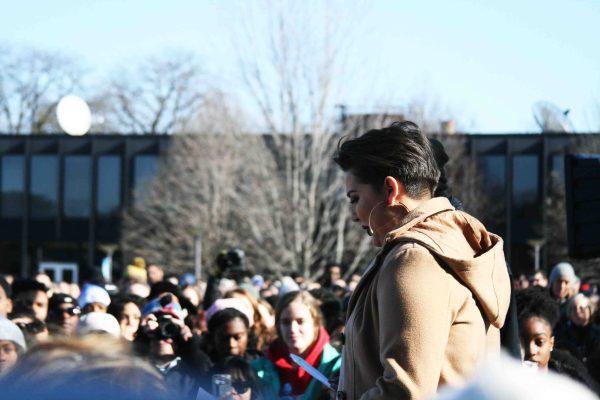 "What needs to happen is that we need to make white people more uncomfortable," said President of SEAP Manasi Singh. "Those conversations that make white people uncomfortable are the only conversations that have actually allowed for substantial change to happen."
Lain said administration should work to get more faculty and staff of color, faculty should embed discussions about racism into their curriculums and students should educate themselves and be active bystanders.
"I know personally, I haven't had a lot of interaction with white students on campus and I honestly can't speak to why that is," Coleman said. "I would love to see the community come together on a daily basis and less in times of crisis like someone else at the rally said. Be there in times of peace as well, when things are calm."
Many students of all races expressed support for both the rally and the #PaintitBlack Project by wearing black and posting signs with the hashtag #paintitblack.
"Not just white students but all students need to work on empathetic understanding," Lain said. "Put yourself in other people's shoes. When we're able to do that as a community, really explore experiences of all different identities, we're going to be such a strong community."