By, JACOB REYNOLDS
After this past midterm election, I could say I was confused. I guess that would be a proper way to describe the results, as well. Democrats gained close to 30 seats in the House of Representatives, but Republicans gained seats in the Senate. Floridians voted to give ex-felons voting rights they had been stripped of – and voting rights are something many ex-felons right here in Iowa do not have at this very moment, by the way – but voted for candidates more likely to be against rights of former felons. Missourians voted for a four percent tax on medical marijuana and to increase the minimum wage, but voted for people who are more hostile to these policies.
One of the more confusing results happened right here in Iowa. While Democrats won three of the four U.S. congressional districts in the state (including electing its first two women representatives), the governor and Congressional District 4 races showed how deep a divide there is. Admittedly, Republican governor Kim Reynolds won the gubernatorial race by a relatively slim margin over Democratic challenger Fred Hubbell, especially when considering how much her predecessor, Terry Branstad, won four years ago. Again, though, it's surprising that such a conservative candidate won in a Democratic-leaning election in the state. Congratulations to Governor Reynolds on becoming the first-elected female governor of Iowa, though. But for progressives, I'm sure that's as satisfying to hear as hearing Margaret Thatcher became the first female Prime Minister in the United Kingdom in the 1980s.
On the other hand, the re-election of Steve King, the white-nationalist-but-won't-explicitly-say-he-is congressman, is more frustrating than it is surprising. In a column last year, I implied how little I think of the Confederate flag, and King displays the flag proudly on his desk in Washington, D.C. This, along with the racist drivel he spouts out regularly, should have proved he should not be a mainstream politician who's been re-elected as many times as he has. But, again, this election was closer for King than it has been in the past. Hopefully, the backlash towards King comes out in more force for the 2020 election to kick him out – and to help Iowa's national reputation in the meantime.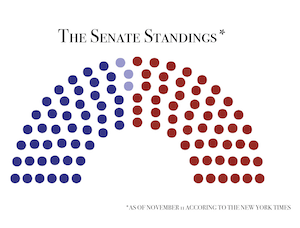 Besides the different political parties winning seats in the two legislative bodies, the other big news was the fact that there were so many firsts in the election. Like I said, for the first time, congressional and gubernatorial candidates in Iowa who were women won; an openly gay candidate won a governorship for the first time (in Colorado); two black Muslim women made it to Congress for the first time; and more than 100 women are in the House of Representatives for the first time. While these are all good things, it shows how much work our country has to do in that this is the first time people with these identities are being elected for the first time. Secondly, as the House has 435 members, more than 100 women are still slightly less than 25 percent. As women make up more than 50 percent of the population, there is still a lot of work to do in the future to make this number more even in terms of gender. 
Looking ahead to 2020, I think there are a few Democratic candidates that could reasonably be assumed to make a run pretty soon. Personally, I could see Texas Senate candidate and new progressive sweetheart Beto O'Rourke make a run after nearly besting Ted Cruz in the deep-red state. I could also see Bernie Sanders taking another shot at the presidential nomination after easily winning his Senate election. Otherwise, I think it's reasonable to assume more progressive candidates who did not run in this election trying to run, such as Kamala Harris, Cory Booker, and Elizabeth Warren. It will be interesting to see how this next election cycle plays out, but I think this midterm shows there is a definite anti-Trump wind blowing around, especially in more purple states like Iowa.
GRAPHICS MY HANNAH COHEN