The patchwork of multicultural expression that is Painted Street was symbolically unified by a coat of black paint on Friday. The event represents the more successful aspect of collaboration between the #paintitblack movement and university administration, who continue to discuss plans to fight racism on campus.
BY KIM BATES
In the past ten days there have been four racist notes slipped underneath the doors of targeted minority students. The #paintitblack movement at Drake University seeks to make a change, starting with a forum, a rally and then painting Painted Street black.
Drake's Painted Street is an old tradition. Each year during the Drake Relays, different campus organizations paint a square on the beloved Painted Street. The university agreed to paint its beloved Painted Street black to support the symbolic #paintitblack movement sweeping the campus.
"The event today is a really big step for Drake University, being that we are overlooking a tradition and value that Drake holds to make a statement," said Anthony Adame, a first-year student at Drake University studying law, politics and society.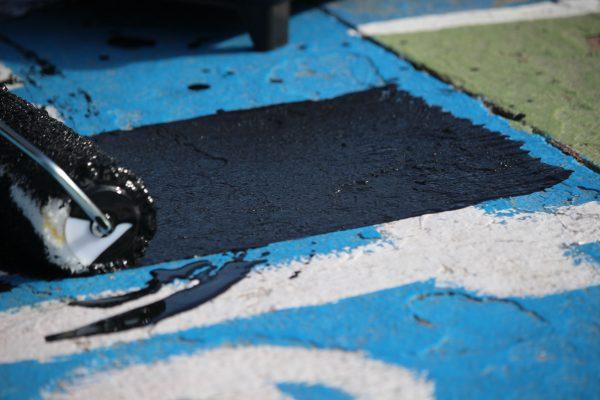 Hundreds of Drake University students lined up next to Painted Street to represent their multicultural squares and participated in the painting. Students were instructed that this was not a paint war, but wore gloves and plastic booties to protect their shoes. The university supplied paint, paint brushes and rolling pins.
"I think it is a great celebration, we are celebrating our response to what has happened and continuing towards equity and inclusion," Drake President Marty Martin said.
"Disheartened, infuriated, but also highly motivated. I think I see that in this community, I think I see the same responses… highly motivated to be our better selves…to do better."
The event was posted and advertised on Facebook and took place from 1:00 pm to 4:00 pm on Nov. 16.
The following statement was made online to further explain the event: "To demonstrate a shared commitment to Drake University's students of color, the campus community will join together to paint the Painted Street black, a powerful statement of solidarity and anti-racism."
Attending the event was first-year student Tim Gant studying strategic political communications and public relations. He is involved with the Coalition of Black Students and Crew Scholars.
"From years and years of things going on, but also from the really heinous things that have happened in the past week…we wanted to do something that the whole campus could do together in solidarity," Gant said. "[Painted Street] is a really important place on campus, so we wanted to use the color black because that symbolizes unity.
"The fact that we are painting the street, doing this in a historical place, we've never painted it black before, it's the number one reason why people won't forget this. Number two, we don't just plan to paint this street…we are also going to paint a crossroad black, permanently."
A group of students, dressed in black, protested what they said was a lack of response from administration. The organizations of students wanted to get the administration and students on board working towards physical change. The students walked around with tape on their mouths to show how they've been silenced.
Others with un-taped mouths walked around and chanted, "Drake, an email is not enough."
Many different students, media outlets and administrators attended the painting of the street black event. The street will remain black until Drake Relays in the spring. There will be an area permanently painted black to remember the events that took place this week.
HEADER PHOTO BY KIM BATES | STAFF WRITER