BY KATIE MOON
This year, Drake Relays was really different. For the first time since 1945, Paul "Mr. Drake" Morrison was not in attendance. Morrison died on Nov. 30, 2017, at the age of 100.
Morrison played a major role in Drake and Drake athletics. He started as a student in the School of Journalism and Mass Communications and continued on as sports information director. He earned the title "Mr. Drake" with age, due to the fact that he was always working or volunteering here, according to his daughter, Holly Dierks. She said that back in the day, Drake required faculty and staff to retire at age 70, but her father came in the very next day as a volunteer. He would come in five days a week, sometimes even seven after his wife died.
Dierks remembered her "different kind of childhood." Her father was always working, but her family was able to go to work with him. Whether that was a track meet, basketball game or football game, she said they would tag along. She even helped her father do office work during the summers in elementary and middle school.
Dierks said that her most fun memory was when the Drake men's basketball team went to the Final Four when she was in high school in the late 1960s. While her dad traveled with the team, her family and another family traveled to Louisville together to watch the game.
One of Morrison's biggest contributions to Drake Athletics was his newsletter that he started in the 1940s, according to Dierks. She recalled that her father had an incredible memory and could remember everybody. In this newsletter for student athletes, Morrison made sure to have up-to-date addresses for everyone and asked them to send in life updates. Dierks said that her father wrote these newsletters until his passing. His newsletter survived around 70 years.
Dierks remembers that her father loved writing letters. He used this and his incredible memory to write letters to former student athletes.
"If he would read about you getting a promotion in the newspaper, he would write a congratulatory letter to you," she said.
Even when he received a check from someone paying their dues for his D Club, a special season ticket package for student athlete letter winners, he wrote a hand-written thank you note with a personal touch.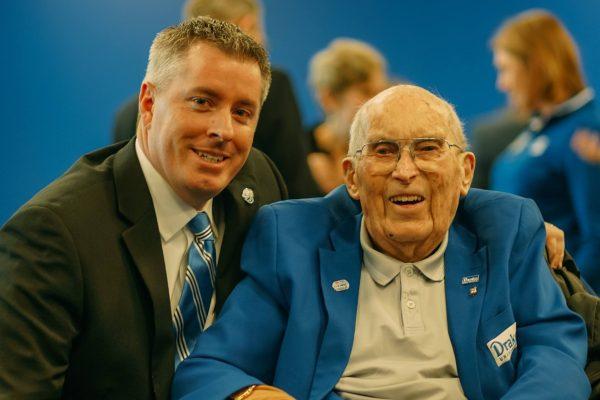 Morrison had a welcoming, bubbly, happy, "proud of Drake" personality, Dierks said, that he showed in many ways. He welcomed those who wouldn't have felt "at home" at Drake and accepted them as they were.
He also showed his "proud of Drake" personality by picking up litter.
"He'd carry an old, ratty briefcase, and if he saw a piece of litter on campus, he would always pick it up," she said.
This even extended beyond Drake, as he would walk around Dierks' neighborhood and do the same thing after work.
Perhaps the most unique thing about Morrison was that he never had a driver's license. Dierks said that Morrison's parents never really drove, so he didn't really have an interest in doing so. She thought that he failed a few lessons, so his mom took over.
Dierks said because he never drove, her father lived to be 100 because he walked everywhere. It wasn't unusual for him to walk five to 10 miles per day. Dierks said that he had his first heart attack at age 80.
"Literally, his heart had reworked its vessels for years just because … he was so healthy," she said.
When he was the sports information director for Drake, Morrison wrote all of the press releases. During football season, basketball season and Drake Relays, there was about one press release per day.  He had to make about seven stops downtown per press release, but because he didn't drive, he would either walk, take the bus or have someone, usually his wife, pick him up and take him to each stop, according to Dierks.
One might think that all his time walking would cause Morrison to become frustrated when he had to be in a wheelchair. However, that wasn't so. Dierks said her father took everything in stride; no change bothered him.
His positivity, humility and politeness were unmatchable.
"Never, ever did he have an ill word to say about anybody," Dierks said.
Even while he was sick and dying in the hospital, he always said "please" and "thank you" to everyone that took care of him. He didn't understand why President Marty Martin would want to visit him in the hospital. Dierks knew that, in Morrison's mind, nothing was about him. It was always about everyone else.
Paige Greiner, a senior on the Drake women's basketball team, said that Morrison went a long way making sure that her team was recognized and remembered for their accomplishments, including going to the NCAA tournament during the 2016-2017 season. This went as far as donating the Missouri Valley Conference championship rings to the team.
Greiner first met Morrison at the athletic welcome picnic her freshman year. Because she had heard about him during her recruitment visits to Drake in high school, she was just in awe of the history that surrounded him. She said that his reputation proceeded him.
On Nov. 30, the day of Morrison's death, the women's basketball team played Iowa State University at home in the Knapp Center.
"You could talk to anyone who was in the arena that night, and they would tell you that Paul Morrison was there," Greiner said.
Drake won that game in a four-point game-ending play; the score was 83-80.  The entire game was close, but Greiner and the rest of the team believe that Morrison gave them that extra little push.
Jeff Martin, a former football player turned coach that graduated in 1977 and holds five school records, remembers several things Morrison did for him and the football team.  He said Morrison, who traveled with the football team, always made sure that the hotels were ready, the meals were planned and managed the business aspects of all the trips.
Martin first knew Morrison through his grandparents who went to church with him.  That connection, among others, fostered several short discussions. Martin was always amazed by Morrison's intelligence. When he would talk about previous athletes, he would be able to say when they played, their major accomplishments, what their college degree was in, where they lived and what their job was. Martin said that Morrison's intellect never diminished.
Bryan Moon, who graduated in 1984, remembered an act of kindness that Morrison did for his family. Moon's father, Don, a professor in the School of Education, filmed games for the football team.
"I was a junior in high school, and my dad wanted to take myself one week and my other brother the other week on a football trip, and Paul (Morrison) made all the arrangements to get me on the flight," Moon said.
The flight to New Mexico State was the first flight of many that Moon would go on in his life.
"I'll always appreciate the time that he took to accommodate my dad and my brother to go on that flight with the football team," he said.
Morrison went above and beyond in everything he did.
"I don't even want to attempt to say what all he did, because I know he did a lot of stuff that we're not even aware of," Greiner said.
He even inspired her to give back to Drake.
Dierks said she never realized how big of an impact her father had in so many people's lives. She was shocked by the number of messages she received after his passing. She got messages from people of all ages and walks of life. There were messages from the College Sports Information Directors of America (COSIDA), whose annual meetings Morrison attended, people in the press box and both former and present-day student athletes.
"The ones that shocked me even more were maybe more the current generation," Dierks said.
Paul "Mr. Drake" Morrison's personality embodied Drake as a whole, according to Greiner. She said that there are just not enough words to explain his impact. She misses seeing him because no matter what, he would be there to support and comfort her team.
Dierks said she misses her father's joy for life. He inspired her to pick up litter just like he did, and she uses his phrase, "You gotta be T-U-F tuff," on her grandchildren.
"He is dearly missed, and he will be dearly missed for a very, very long time," Greiner said.
Mr. Drake loved Drake Relays. The only thing that would ever upset him was people complaining about the Drake Relays weather, according to Dierks. He always said that there were more nice than not nice years, and he had the stats to prove it.
The beautiful Relays weather this year seemed to work out in his favor.