Photo by Caitlin Clement
BY CAITLIN CLEMENT
Around 3,000 Iowa students and residents came together in snowy conditions at the Capitol building in Des Moines to protest in favor of gun control as part of the national "March for Our Lives" demonstration in the wake of the most recent mass shooting in Parkland, Florida.
The march was led by student activists in Iowa with help from the non-profit Progress Iowa. It focused on topics such as a ban on assault weapons, universal background checks and a ban on high capacity magazines and add-ons such as bump stocks.
Students led chants like "Enough is Enough," "Books not Bullets" and "Stop the NRA" throughout the march. Many of the speakers were students in high school and college as well as teachers and witnesses to gun violence.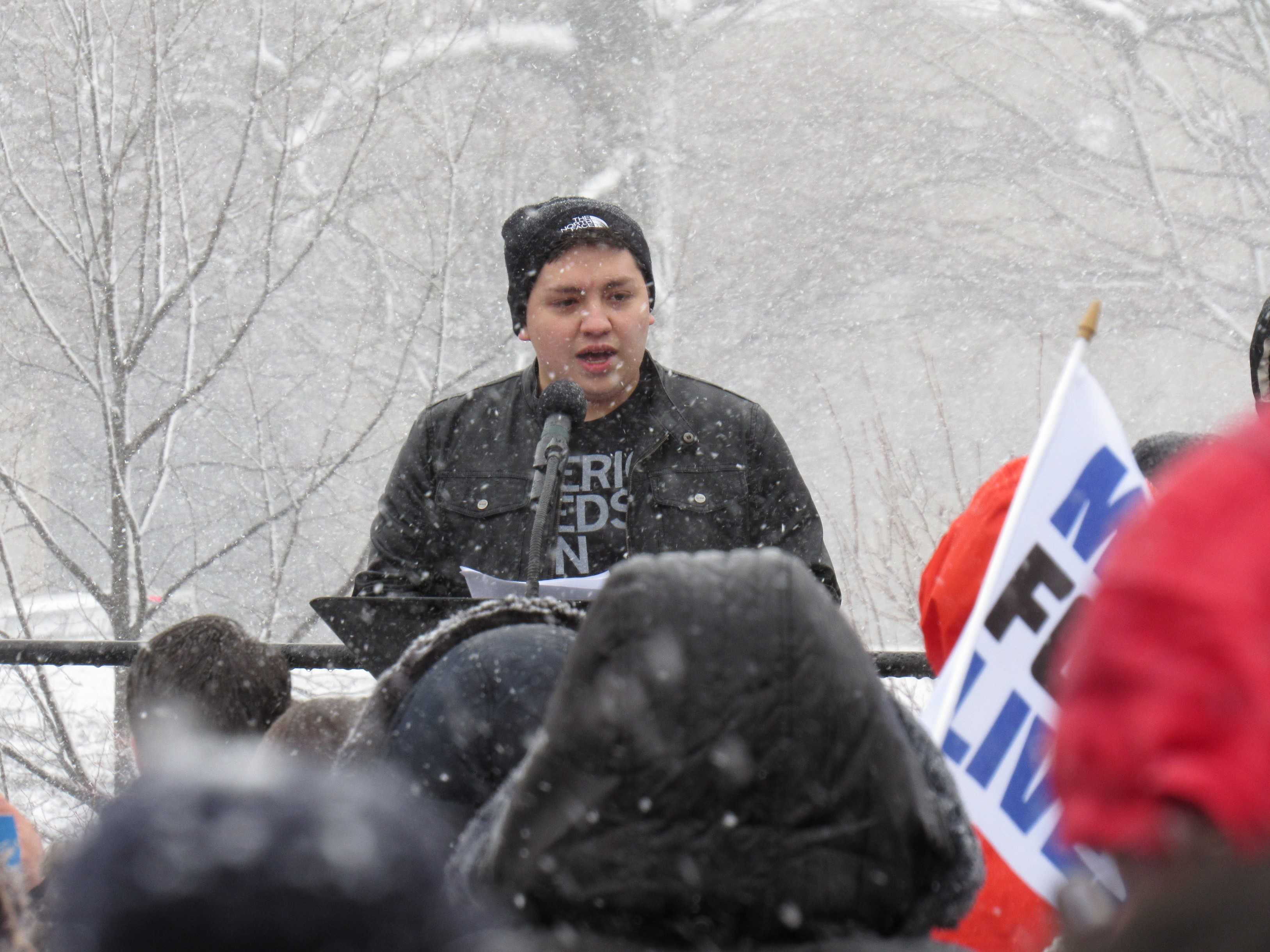 Jaime Izaguirre, a Drake University first-year, was one of the speakers at the march this past Saturday.
"People like the Parkland students are going to start using their influence and their voice to be heard," Izaguirre said. "It's just as simple as saying 'I don't agree with what's going on' … that small statement can influence a legislator, maybe, to vote a different way."
Activists began to chant "Vote Them Out" when Izaguirre listed off the amount of funding the NRA gave to individual senators, one senator even in the millions, to show the amount of financial control they have over legislators. An NRA representative was present at the march to witness this.
In between speakers, there was a memorial dedicated to the 17 people who lost their lives during the shooting at Stoneman Douglas High School in Parkland, Florida. Each victim's name was read aloud to the silent crowd and the echoes could be heard reverberating across the city.
"How many more parents need to bury their kids until we draw the line?" said Melissa Zapata, a student at Des Moines University.
Zapata grew up in Parkland and attended Stoneman Douglas High School. She said before the shooting, she hated when people asked where she was from because no one knew where it was. Now, Zapata said, she hates when people ask her because of the event her home town is now known for.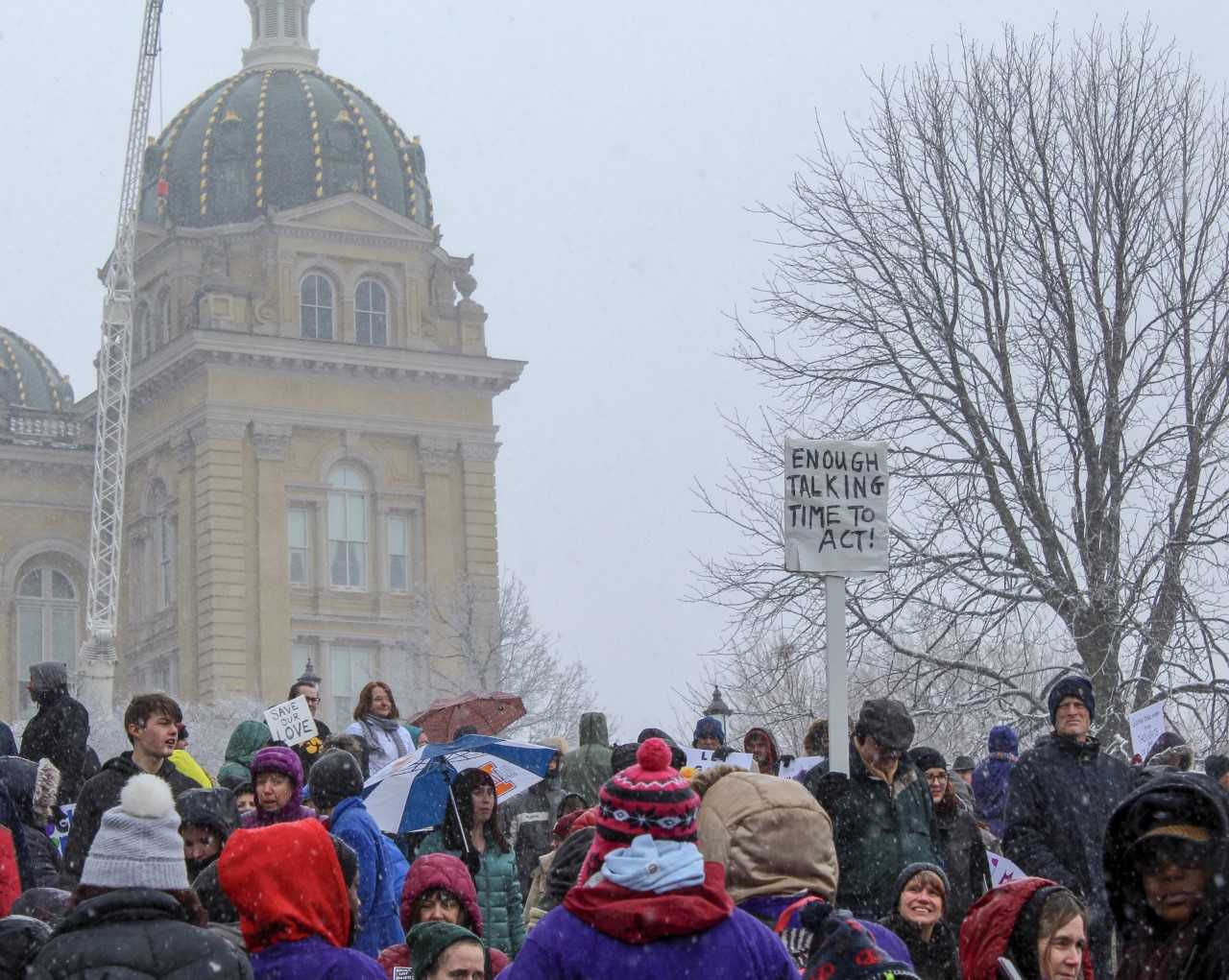 Drake student and first-year Natalie Sherman was another activist that gave her support to the march.
Having recently been in high school, Sherman gave her opinion on the lock in or lock down procedures high schools have implemented since Columbine almost 20 years ago.
"Although I do think it's important and saves a lot of lives in an active shooter scenario, I do think there are better actions we can take. We are hiding kids instead of taking away the guns," Sherman said.
Sherman further said she wants to see a ban of assault style weapons, thorough backgrounds checks and raising the age limit to buy a gun from 18 to 21.
The march started on Capitol grounds and went left down East Grand Ave., down Pennsylvania Ave. and then back up the steps towards the Capitol. The march was led in front by volunteer students for the event starting the chants.
In recognition of the opposing side, Izaguirre said he understands the want people have to go and shoot certain guns in a gun range, but believes the lives of U.S citizens and those affected by all gun violence is more important.
"Is it really worth doing nothing?" Izaguirre said. "Is it really worth losing lives?"