In 1951, Delta Gamma became the first sorority in the United States of America to establish an independent philanthropic foundation. Each fall, Drake University's Delta Gamma women host a philanthropy week for Service For Sight, a fundamental portion of the Delta Gamma Foundation.
Service For Sight supports the four Delta Gamma-founded schools for the visually-impaired as well as other organizations in North America that provide assistance to both children and adults suffering from visual impairment. It has been at the heart of the Delta Gamma foundation since 1936 when a blind woman of Delta Gamma petitioned to make "Aid to the Blind" the official philanthropy of Delta Gamma before Service For Sight was established fifteen years later.
The 2017 philanthropy week for the Drake University Delta Gamma women included tabling, T-shirt sales, DG Desserts and serenades, all leading up to Anchor Splash which was hosted on Friday night at the Windsor Heights YMCA.
In 1966, the University of Miami Delta Gamma panhellenic chapter Beta Tau hosted the first ever Anchor Splash. Soon after, Delta Gamma chapters all across the country joined in to host their own Anchor Splashes, including Drake University's own Alpha Lambda chapter of Delta Gamma.
The competition between chapters starts days before Friday night, however. Throughout the week of Anchor Splash, both Drake sororities and fraternities attempt to acquire as many philanthropy points as possible, determined by tasks like buying T-shirts, donating coins and dollar bills to the Most Beautiful Eyes penny war and other intricate doings throughout the week.
"Penny wars" are a popular fundraising tactic in the panhellenic community at Drake University in which donated pennies and $1 bills are assigned positive point values and all other donated coins and bills are assigned negative point values. Each panhellenic chapter is represented by a jar at tabling throughout the week, giving chapter members the chance to either boost their own chances of victory with a handful of pennies or bomb a different chapter's chances with a crisp twenty.
Finally, after all of the literal nickeling and dime-ing, Friday night arrives, and members of the Drake panhellenic community and miscellaneous supports trek down University Avenue to the Windsor Heights YMCA for the final fundraising event of the week: Anchor Splash. Audience members were charged a $2 admission at the door for a night full of fun.
"I love this event because it gives everyone a few hours in their evening to stop, relax and create great memories," said junior member Katie O'Keefe. "We, as students, are far too busy and so Anchor Splash gives us all an opportunity to truly live where our feet are."
Alpha Lambda's 2017 Anchor Splash consisted of relays like the 100m and "Save a DG," then was followed by the main event: a synchronized swimming competition that brought fellow panhellenic chapters together to produce a night of strokes, splashing and "scooping," a universal Delta Gamma hand sign featured in most, if not all, synchro routines.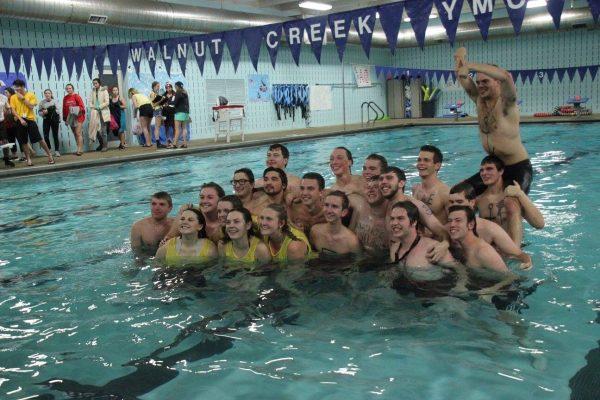 A couple of weeks before the competition, interested women from Delta Gamma are assigned Greek chapters to coach choreographed routines to in hopes of placing in the top three. The judging criteria for said routines is divided into four parts: creativity, use of DG quirks, synchronization and originality/theme.
Every chapter was armed with hilarious routines like fraternity Alpha Tau Omega's Christmas spectacular or the service fraternity Alpha Phi Omega's Taylor Swift and Kanye West mashup.
When running an event of such caliber, one must be prepared to expect the unexpected, however. During sorority Alpha Phi's routine – not to be confused with Alpha Phi Omega – the music cut out due to the stereo's sensitivity to the humid atmosphere.
Phi's girls didn't miss a beat, however. They finished the rest of the routine a cappella and in high spirits. Their efforts led to them tying for first place for sororities with Kappa Alpha Theta.
First-year coach of Alpha Phi Catie Mullen had so much fun bonding with fellow members of the panhellenic community through this experience.
"Anchor Splash showed how hard work and preparation brought the panhellenic community of Drake together to raise money for the amazing organization of Service for Sight," said Mullen. "All of the fun we had together was the cherry on top!"
The final routine of the evening stole the show. The men of Sigma Alpha Epsilon and their Delta Gamma coaches combined some throwback classics like the Backstreet Boys' "Everybody (Backstreet's Back)" and the Jonas Brothers' "Year 3000" and paired their boy band picks with clean and well-executed moves to take first place for fraternities. SAE also took first place overall in philanthropy points for the entire week.
Rachel Trbovic, a first-year Delta Gamma and one of the coaches for SAE, reflected very fondly on her first experience with Anchor Splash.
"Anchor Splash has by far been one of my favorite memories at Drake," said Trbovic. "As a first-year having no idea what I was doing, I had so much fun. We were so ecstatic about winning we all jumped in the pool, and even though it was freezing outside and I had no changes of clothes, I still would do it all over again."
Drake junior and DG Anchor Splash director Ashley "Blaze" Blazek chipped in with her perspective as well.
"I think Anchor Splash is so special to me for a lot of reasons," said Blazek. "It's really rewarding to see teams so proud of their routines and excited to perform. Coaches put in so much work and seeing them invest in others and invest in our cause is an incredible gift I was able to really see this year. Service for Sight and the Delta Gamma Foundation are like any other nonprofit with a worthy cause, but it's really inspiring to see young adults acknowledge a need and give back while having fun in the process. I am thrilled with how this week went and I feel honored that I was able to play a part in it."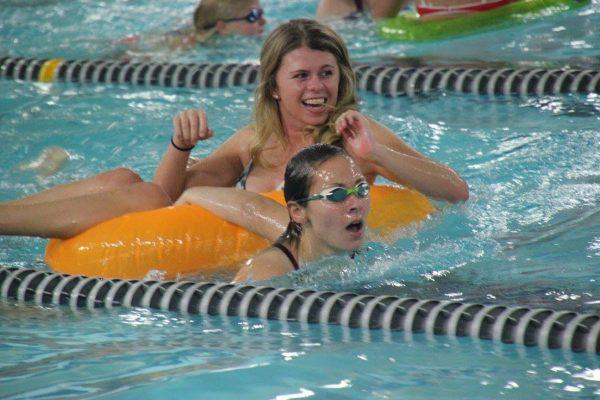 Editor's note: this story is updated from the version originally appearing in Nov. 1's print issue. Corrections were made by the writer after the issue went to print.