Photos by Josh Cook
BY JOSH COOK
Senior Reed Fischer broke the outdoor men's 5000-meter school record on Thursday, the first night of Drake Relays competition on the Blue Oval, in front of an excited crowd.
Fischer ran a 13:48.32 in the 5000-meter race to win the Drake Relays final, passing runner-up Malachy Schrobilgen of Wisconsin on the final turn. Previous record holder, Boyd Nansel, was there to watch. When Fischer crossed the finish line, Nansel was part of the small crowd of people that engulfed him in celebration before his victory lap.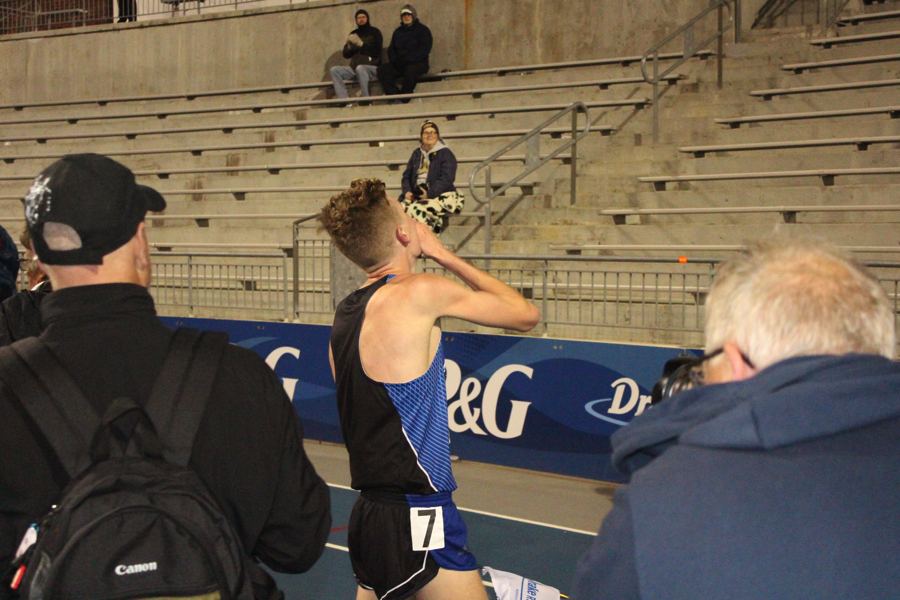 Nansel set the record in Baton Rouge in 1978 with a time of 14 minutes flat, give or take a few tenths of a second. Before Thursday's race, Nansel said that he hoped Fischer would break the record. He had watched him miss the record by less than a second last year and was looking forward to seeing him improve his time.
Fischer gave a huge shoutout to the crowd after the race.
"Every lap I went by, every time I moved up a spot, it just got louder and louder," Fischer said.
Fischer also said that he hopes to see one of his teammates break the record in the next few years, but admitted it would be pretty cool if it stood for another 40 years.
After breaking this school record, Fischer now has three. He also owns the indoor 5000m record as well as the indoor 3000-meter. Fischer set all three of the records this spring.
It was Fischer's final career home meet, but he still has the rest of the season to improve. There are still two meets left on the schedule: May 6 at the Nebraska Invitational and May 12-14 at the MVC Outdoor Championship.
Should he qualify, Fischer could compete at the NCAA West Preliminary at the end of May and then again in June at the NCAA Outdoor National Championships.