BY ADAM ROGAN
Drake University's new men's basketball head coach, Niko Medved, said "athletics is the front porch to the university" in his inaugural press conference last month. The first impression outsiders are getting at Drake's front door, however, is burdened with conflicting reviews from the outside and near-silence from within.
Many Drake University alumni are unhappy with the present state of Drake Athletics and its director, Sandy Hatfield Clubb. And they've become increasingly vocal about it.
In the past six months, no less than three Des Moines Register columns, among other media outlets have chimed in to criticize, using lawsuits filed by former employees, poor of Men's Basketball performance, and frequent resignations and terminations of head coaches as ammunition.
Full-court bad press
In August, the now-former Head Athletic Trainer Scott Kerr was fired after working in Drake Athletics for 31 years. He claims he was fired because of a medical condition and is suing the university.
Soon after, another lawsuit was filed, this time by former Women's Basketball assistant coach Courtney Graham who claims she was forced out of her position because she is a lesbian. Two of Graham's lawyers Drake Law School grads, no less.
The administration remained characteristically quiet in response. Other than a couple press statements, Drake did little to address the allegations. Hatfield Clubb said this was a result of Drake's "obligation as an institution to complete privacy" with personnel issues.
"What you read is one side of the story, and that's it. That's all you're reading," Hatfield Clubb said. "I can't fill in the gaps, because that's not appropriate for me to do that."
Both lawsuits are still in the works. But when they became public, several high-profile publications covered them.
Regardless of how the cases turn out, it's bad press for the school.
Daniel Finney, a Des Moines Register columnist and 1997 Drake grad, wrote a column in December 2016 entitled "Drake needs to clean up athletics — and fast." Travis Justice, a Des Moines sports talk show host, said that Hatfield Clubb should be fired because of how she handled the Kerr incident, and he isn't the only one to say so.
One of the most highly viewed threads on the forum website drakenation.com is titled "The Clubb Disasters." It has more than 17,000 views and 225 posts. And there are plenty of other threads on the site expressing similar displeasure.
Several letters to the editor have run in the Des Moines Register from both sides. Some defend Hatfield Clubb and the Drake Athletics, others lambast.
Mark Atkinson, a 1985 Drake grad who walked on for one season with Men's Basketball, is one of the louder naysayers.
"(Hatfield Clubb) needs to go, first and foremost," Atkinson said.
Among other things, Atkinson is disappointed with students' general indifference towards athletics and the prolonged lack of success in Men's Basketball.
"I've had season tickets for 30 years. We've had no success except for one moderate year, this magical year in 2008," Atkinson said, referring to the first and only time the Bulldogs made it to the NCAA Tournament since 1972. "When I went (to Drake), basketball was a huge deal … You had to go (to the arena) at 5 o'clock and put your coat down so you could get a seat."
Men's Basketball is still the marquee sport at Drake. According to a U.S. Department of Education database, Drake Men's Basketball brought in $2,286,284 in revenue during the 2015-16 school year. That's $1.16 million more than Women's Basketball and $1.5 million more than Football.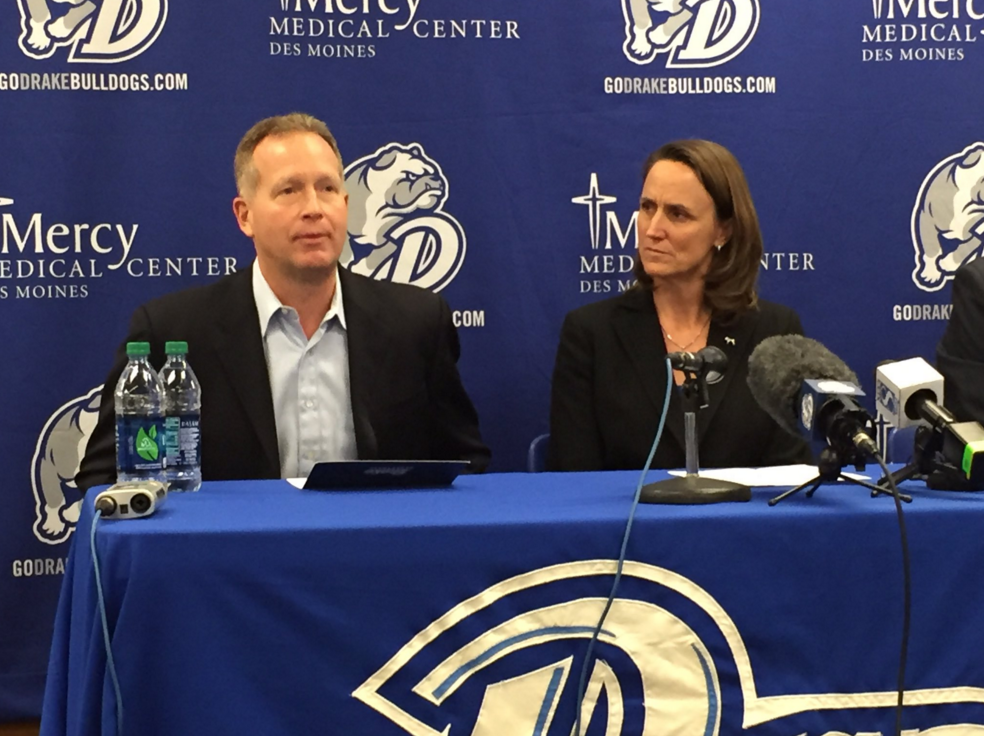 Ray Giacoletti announces his retirement during a press conference on Dec. 6. PHOTO BY ADAM ROGAN
Turnovers
There have been 10 head coaching changes in Drake Athletics since 2013. There are 14 head coaching positions in total.
Chuck Reed, a 1985 Drake alumni and the current Bulldog Football radio announcer, said that part of this could be because coaches who succeeded at Drake could be moving on to bigger and better things, but this positivism doesn't necessarily hold up.
Ray Giacoletti (Men's Basketball, 2013-16) resigned on Dec. 6, 2016 and has recently moved to St. Louis and is looking to become a sports analyst, according to Hatfield Clubb. Leanne Smith's (Women's Golf, 2010-15) LinkedIn profile says that she is "Between Careers." Paul Thomson (Women's Tennis, 2010-13) now heads a Division-II program that won only two of 21 matches last season. John Hollimon (Women's Tennis, 2016) is in his first year of his medical residency in Birmingham, Alabama.
Sadhaf Pervez unexpectedly resigned from the Women's Tennis head coaching job in December 2015, one month before the regular season was to begin. Neither her departure nor the introduction of Hollimon as interim head coach garnered so much as a press release from Drake Athletics. Pervez is now the head men's coach at Southern Utah University.
Former Men's Soccer head coach Sean Holmes' departure was even stranger. Just hours before the 2015 season kicked off, a Drake Athletics press release stated that Gareth Smith would be the new head coach — a role he still occupies. The release made no mention of Holmes, who'd been the head coach for 17 years at the time.
Holmes later told The Des Moines Register he'd been fired. He's been Roosevelt High School's Boys Soccer head coach since September 2016.
The head coaches who have elevated in status after leaving Drake are in short supply.
Chris Creighton (Football, 2008-2013) is now the head coach at Eastern Michigan University, a program in the highest-level of NCAA football. In 2016, he led the team to its second-ever bowl game.
Less than a month before the fall 2016 semester began, former Relays Director Brian Brown and track and field head coach Natasha Brown each left for positions at their shared alma mater, the University of Missouri.
Natasha Brown still hasn't been formally replaced at Drake. Assistant coaches have stepped up as interims since her departure.
Some players see frequent changes as beneficial to their development.
"I think it's made me a stronger player because I've gotten more points of view and more strategies, more different things thrown my way," junior Women's Tennis player Tess Herder said. "I've just absorbed it and responded. I've enjoyed it."
Although she agreed on the benefits, Herder's teammate, junior Summer Brills, said that having three coaches in three years has posed an unanticipated challenge.
"Coming in to a college sport, you definitely don't expect to have that many changes in coaching," Brills said. "…It's made us overall stronger as players because we know how to face adversity and that says something for our mental games too … and that's helped us be successful here at Drake."
Men's Basketball
After the 2008 NCAA Tournament run, AP Coach of the Year Keno Davis left after only one season at Drake.
Mark Phelps followed, the first Men's Basketball head coach hire during Hatfield Clubb's tenure. During five seasons under Phelps, the only time Phelps has been a head coach at the college level, the team posted two winning records and never finished above .500 in conference play.
Giacoletti replaced him in 2013. In a little over three seasons under Giacoletti, the Bulldogs posted a cumulative record of 32-69, typified by a two-win 2015-16 conference season.
In retrospect, Atkinson thinks that both Phelps and Giacoletti were ill-advised hires.
"Sandy and (Phelps) were pals together, both at North Carolina State and then Arizona State," Atkinson said. "And then all of a sudden, Giacoletti was a nice hire, we thought. … He was from Gonzaga, a great program, but he had no ties to the Midwest."
Giacoletti had his fair share of accolades coming into the job.
In 2004, he was the head coach at Eastern Washington during its first-ever NCAA Tournament Berth. The year following, Playboy named him the National Coach of the Year in 2005 when he led the University of Utah to the Sweet 16. He was gone two years later after Utah missed back-to-back NCAA Tournaments.
Giacoletti resigned after the Bulldogs started the 2016-17 season at 1-7. Jeff Rutter stepped up as interim head coach; he was brought on as an assistant soon after Giacoletti was hired.
Rutter was loved by fans and players, but that didn't translate into success on the court. The Bulldogs went 6-17 overall and 5-14 in conference in Rutter's four months as head coach. The team's final record was the same as the year before, 7-24 — the worst finishes since 1998.
Medved was chosen over Rutter for the head coaching job.
Despite Medved's proven ability to turn around a losing program, Atkinson said that Drake can kiss his season tickets goodbye. He's done with Drake Men's Basketball.
"I know that my 800 bucks a year isn't going to cause much, but I'll set a precedent," Atkinson said. "I'm just tired of it. It's an embarrassment."
Atkinson's final straw was how he saw Rutter being treated after the 2016-17 season ended. Atkinson said Rutter was "twisting in the wind," waiting to hear if he would be hired back or not.
Rutter was hired as an assistant coach at Miami University (Ohio) earlier this month.
Not all alumni thought that Rutter was the right man for the job, however. Reed was glad to see the change.
"I like Rutt, but I think he was part of the problem," Reed said. "I think it was a good time to start from scratch, kind of tear everything down."
Reed blamed the many of the program's problems on second-rate, Midwest-focused recruiting, leaving the team without considerable talent.
The last time a Bulldog was drafted and actually played in the NBA was 1981. Drake has only won eight games in the Missouri Valley Conference Tournament since 2001; the last postseason win came in 2013.
"I don't think everybody is looking for Kentucky or North Carolina-type results," Reed said. "I think they just want to be competitive on a Thursday night. They want to finish in the top half of the league, at least occasionally. That hasn't happened in a long time."
More so than Men's Basketball's continual disappointments, the firing of former trainer Scott Kerr is what bothers Atkinson most.
"The way that whole thing was handled is going to cost Drake hundreds of thousands, if not millions, of dollars," Atkinson said.
Atkinson traces Kerr's firing and the perceived humiliation of Men's Basketball directly back to Hatfield Clubb. In his eyes, it's her fault.
Excluding 2008, Drake Men's Basketball hasn't been "good" for a long time. It's finished above .500 just 11 times in the last 46 seasons. The struggles didn't start when Hatfield Clubb was brought on, but she acknowledges that her first two hires were unsuccessful in turning the program around.
"(Hiring Phelps and Giacoletti) didn't produce the results we were looking for," she said. "… The fact that it didn't work, nobody is more upset about that than me."
Hatfield Clubb is an experience-oriented leader. She emphasizes integrity and development for Drake student-athletes and coaches, oftentimes placing those values about wins and losses. She believes that both Phelps and Giacoletti lived up to the standards expected of them; they just couldn't bring success on the court.
Off the court, Reed questions how much the administration has supported Men's Basketball. Not only does he think recruiting is too narrowly focused, but he also partially blames Drake for community apathy.
"What's the marketing budget for Drake basketball?" Reed wondered. "Have you seen any billboards? Are there any commercials out there? … What's being done to bring about interest from people in the community?"
Although marketing has left more to be desired for Reed at least, that isn't to say funding has been low.
The $8 million Shivers Basketball Practice Facility was completed in 2014. President Marty Martin said that the budget was increased for Medved, placing his salary among the top half of MVC head coaches and him more freedom in hiring assistants.
'Selling hope'
Perhaps the biggest problem Drake Athletics has faced is that its successes have come largely out of the general public's eye.
Women's Basketball has a win percentage of .724 since 2014-15. It went undefeated in conference and won the MVC Tournament Championship, which gave the program its first NCAA Tournament berth since 2007.
The women's soccer team went to the conference championship in 2015. Men's Soccer qualified for the 2015 NCAA Tournament after winning the MVC Championship.
Men's Tennis advanced to the second round of the NCAA Tournament in 2015 and sophomore Vinny Gillespie is currently ranked among the top 100 players in the nation.
But these sports aren't particularly given much attention, even considering Drake's reputation as an education-first, athletics-later university. No Drake sport besides football or basketball had more than 750 fans attend any game in 2016.
Two of the last three MVC Academic Awards have gone to Drake, an honor bestowed on the school whose student-athletes had the highest GPA in the conference. The awarded trophies are proudly displayed outside of Hatfield Clubb's office.
Drake has plenty of brains, but that isn't what boosters and fans necessarily care about.
"There's a lot of good things going on, but people don't read about GPAs in the sports page," Reed said. "They read about wins and losses."
"I think there's a dark cloud hanging over the athletic department right now," Reed continued. "I think Niko has brought some fresh air. I think a lot of people are excited to see what he can do. You can be losing, but if you're selling hope, people are buying."