Photos by Adam Rogan and Jake Bullington
BY ADAM ROGAN
It's finally over.
After 22 consecutive wins and a perfect conference season, Drake Women's Basketball's season was ended by the Big 12's Kansas State Wildcats in the first round of the NCAA Tournament.
"We all kind of wanted to make a run in the tournament…" senior Lizzy Wendell said. "None of us have had that experience before."
The final score was 67-54. Drake's offense was disrupted early and often by the Wildcats' defense. The Bulldogs couldn't match up with K-State's senior center Breanna Lewis. She finished with a double-double, 23 points with 11 rebounds.
It was the first time any current  Bulldog has appeared in the NCAA Tournament. It was also Jennie Barancyzk's first appearance as a head coach, although she's been to the big dance both as a player and assistant coach.
"I couldn't ask for a better senior season," Caitlin Ingle said. "It's been beyond my wildest expectations. It was an incredible way to go out. Of course, you don't want to lose in the first round. But you're going to lose at some point, most teams do."
The NCAA Women's Tournament isn't centralized until the Sweet Sixteen, so 7th-seed Kansas State received a home-court advantage.
Drake's first six points came on threes, both of them first from Sammie Bachrodt. It was a sign of things to come. The Bulldogs finished 7-24 from beyond the arc.
It wasn't shooting woes that doomed Drake. Instead, it was turnovers.
In the first half alone Kansas State scored 17 points off of Drake's 10 turnovers. Even though the Bulldogs forced more turnovers (12), they only scored four points off of them.
Rebounding was also a low point. K-State finished with 41 boards, 14 of them offensive. Drake only had 26 total.
During the MVC Tournament, the Bulldogs had played their best coming out of halftime.
In Drake's three postseason games before the NCAA Tournament, the Bulldogs won the third quarters combined 80-38. Against K-State, Drake lost the period 13-10.
Wendell made a buzzer-beater to bring the score to 35-43. The shot snapped a three-minute scoring drought.
It didn't succeed in turning the momentum, however. Kansas State's lead was never less than six in the final period.
With one-and-a-half minutes remaining, the Bulldogs trailed by 15. They didn't bother to extend the game via intentional fouling.
When the Bulldogs last appeared in the NCAA in 2007, they were eliminated in the first round as well.
The Bulldogs were paced by Wendell's 17 points. Freshman Becca Hittner had 13 and Bachrodt finished with 10. Ingle had seven assists and a pair of steals, but only scored four points.
This came a game after Ingle led the Bulldogs to an MVC Championship by scoring 22 points, including a buzzer beater that forced overtime. She was named MVC Tournament MVP.
Even with the season concluded, the 2016-17 Drake Women's Basketball season was remarkable. It was the first time an MVC women's team has gone undefeated in conference play. The Bulldogs' final record (28‑4) tied the highest win total in program history, the most since 1982.
Next year, the Bulldogs will lose three seniors to graduation: Wendell, Ingle and Cortni Rush.
"The one thing that we kind of relied on all season was the depth that we have. Everyone sees the court and has playing time," Wendell said. "… That really helped us in the (MVC) Tournament this year."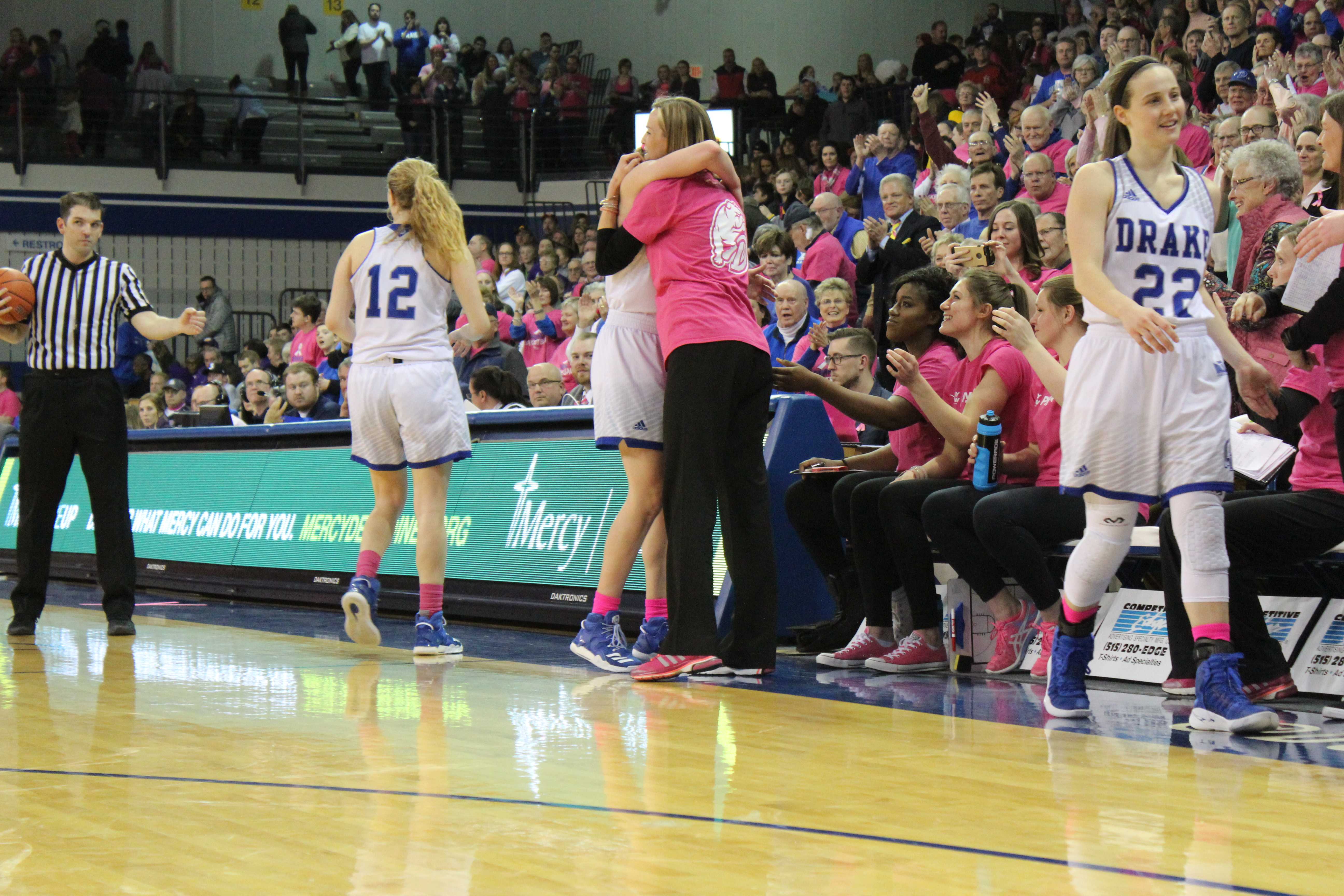 Ingle's 1,024 career assists is more than any other Drake or MVC player ever. She was only 2.3 assists per game short of averaging a double-double in 2016-17.
"It's honestly surreal for me," Ingle said. "It's very humbling, obviously. But I couldn't have done it without my teammates. I got to play with Lizzy (Wendell) for four years; I don't have that record if I'm not playing next to one of the most prolific scorers."
Wendell graduates as the third highest scorer in Drake and MVC history with 2,251 career points. She was also the conference's MVP in 2016-17 and is the second MVC player ever to average 20-plus points per game for three seasons. The first player to do that was Jackie Stiles, for whom the MVC's MVP award is named.
"We definitely do have some big shoes to fill," Hittner said.
Among those pieces are Hittner, the reigning MVC Freshman of the Year, and Sara Rhine, who won the award last year.
Three Bulldogs who averaged double-digit scoring in 2016-17 will return, as will current redshirt-sophomore Becca Jonas, who led the MVC in field-goal percentage this year. Hittner finished in third in that category.
[toggle title='Records, firsts and snapped streaks']
22-game win streak is the longest in conference and program history.
First unbeaten conference season in MVC history.
28-win season ties Drake Women's Basketball program record, set in the 1978-79 and 1981-82 seasons.
Ranked by the AP Poll for the first time since 2001.
Peaked at no. 19 in USA Today Poll for the week of March 6-12.
Drake's first NCAA Tournament appearance since 2007, 11th berth in program history.
Drake's first outright MVC regular season championship since 1999-2000.
Drake's first MVC Tournament Championship since 2006-07, sixth in program history.

[/toggle]