Photos by Adam Rogan
ONLINE EXCLUSIVE BY ADAM ROGAN
Although the political divide between Drake University students may not be as apparent or insult-ridden as it is during a debate between presidential nominees Hillary Clinton and Donald Trump, it is still present.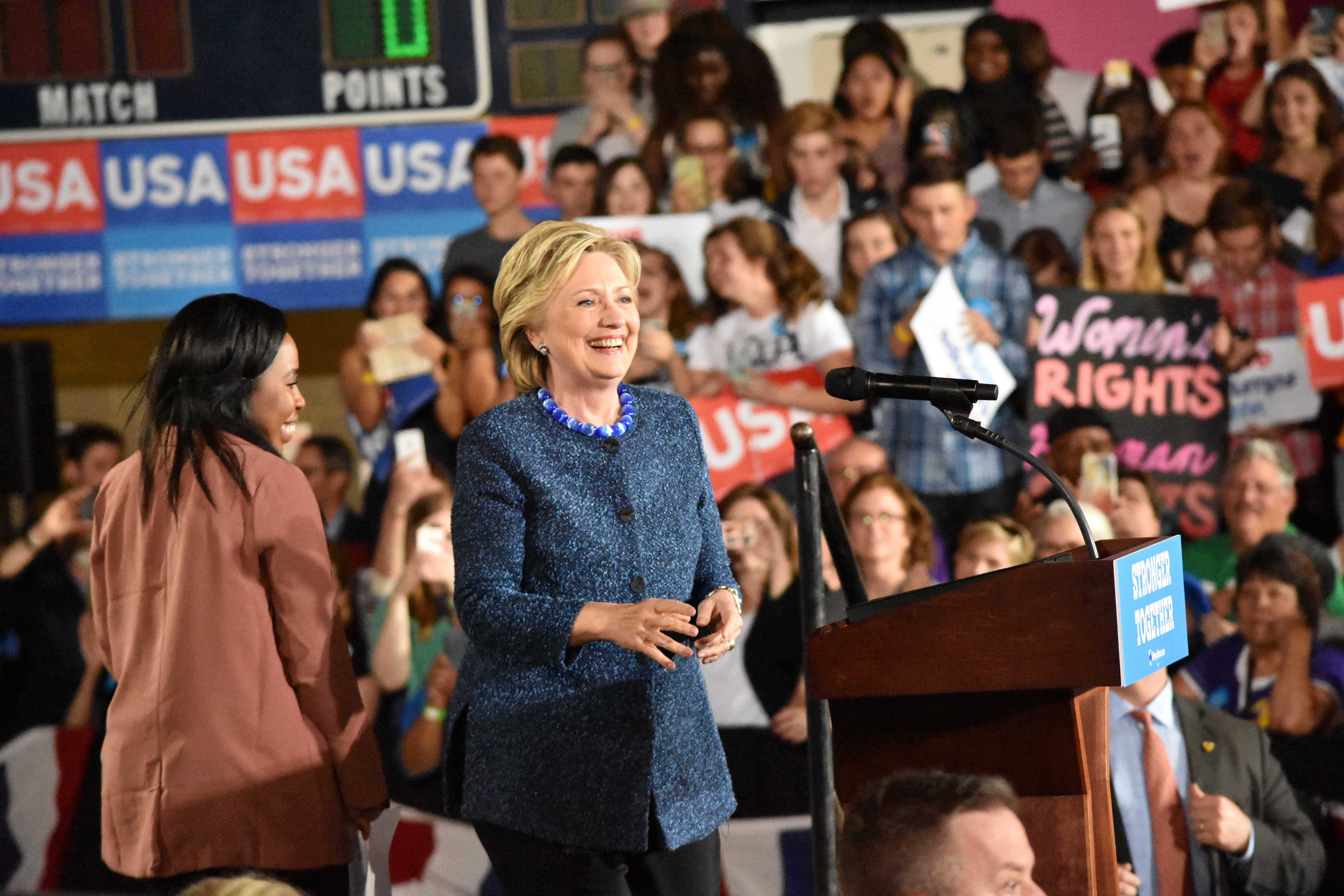 Last week, Hillary Clinton hosted an "Early Vote Rally" less than two miles away from Drake at Roosevelt High School with about 500 of her supporters making up the audience, including several Drake students.
One of those students was Itzayanna Rubio, a junior majoring in law, politics and society. Rubio has gone to several Clinton events and finds herself more motivated and invigorated when she hears the former Secretary of State speak in person.
"The feeling that you get just going to a Hillary rally is just a very positive one," Rubio said. "Regardless of how you feel about (her policies), I think you can still get a feel of the energy that a candidate has by going to their rallies, by going to their get-togethers, by meeting their supporters."
Sophomore education major AJ Treiber went to the Clinton event as well, the first rally he's attended.
Treiber had been apprehensive to support a presidential candidate in this election, the first he's legally allowed to vote in. An aversion to Republican nominee Donald Trump moved Treiber to want to vote for Clinton, a decision that was reinforced by what he heard at Roosevelt.
"She talked about (how) she has a bunch of different plans and things," the student senator said. "It provides a clearer picture. (She is) definitely trying to unify the country."
Clinton's speech at Roosevelt mostly adhered to her typical platform, such as her goals to abate widespread student debt. But she also spoke out against bullying and the emotional damage it can cause to youth.
However, the plans themselves weren't Treiber's main takeaway from the rally.
"Before the event, it kind of seemed a little bit (like) I was voting against Trump," Treiber said, "Whereas coming out of this, it feels a little bit more of a supporting Hillary, voting for something."
Phillip Masters is a P1 pharmacy student and a Trump supporter. He was not at the Clinton event. Instead, he was at home on his family's farm in Chariton, Iowa.
Masters sees himself as a minority on campus, somebody whose opinion is not commonly held amongst his classmates and one that has sometimes drawn their ire.
"I wear my Trump shirt or my Trump hat or my 'Make America Great Again' hat and people look at me like I'm some kind of stupid," Masters said.
Even if they vote on opposite sides of the ballot (in the presidential election at least), Masters has witnessed a similar experience to Treiber's. Masters mentioned that both his father and grandfather said they are, for the first time in their lives, excited to vote for a presidential candidate. They look forward to voting for Donald Trump, rather than in opposition to another politician.
After originally favoring Rand Paul, Masters became a Trump supporter after sensing the businessman's status as an "underdog." Soon after, Masters volunteered for the campaign and even became the chauffeur for Trump's daughter Ivanka and her husband on caucus night in February. Masters said that meeting members of Trump's family further engrained his support because of their relatability and positions as political outsiders.
"I think people are sick and tired of the bureaucratism in Washington, and they want to see something get done about it," Masters said. "I think that's why people support the guy, because he's saying he wants to do what everybody has been afraid to say what they want to do. We'll know more next Tuesday."
Although last week's rally was the second time Clinton has been in Des Moines since January, there has still been plenty of political buzz generated by campaign visits to Drake's campus.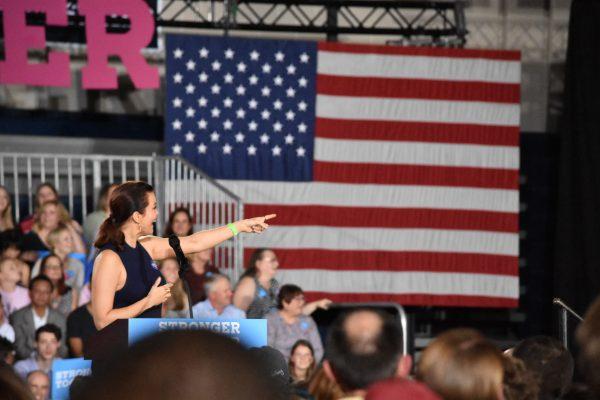 In the lead-up to the Iowa Caucuses, Hunger Games star Josh Hutcherson and fellow actor Justin Long stumped for Bernie Sanders on campus. Bellamy Young, the portrayer of the First Lady in ABC's political drama "Scandal," spoke with Drake students at Olmsted Center about why she supports Clinton hours before addressing the crowd at Roosevelt.
Hutcherson, Long and Young are far from the only celebrities who have made appearances at Drake with political agendas in mind. Actor Misha Collins, Olympian Michelle Kwan and Senator Bernie Sanders all visited the Drake Neighborhood in October to drum up support for Clinton ahead of the Nov. 8 general election.
By comparison, proponents of Trump on and around campus have been a rarity.
"There's a lot smaller percentage of us that are conservative," Masters said. "It's sales. Why are you going to come to a place that's already hardcore blue and try to drum up support for the red? … It doesn't bother me when they don't have events here."
This liberal-leaning was reflected by a poll of nearly 400 Drake students published in the Nov. 2 edition of The Times-Delphic that showed Clinton receiving support from nearly 80 percent of undergrads.
Even if famous supporters of his candidate were to come to campus, Masters said that he wouldn't be all too interested.
"What makes George Clooney such an expert in politics? What makes Josh Hutcherson such an expert in politics?" Masters said. "… It's like a sideshow at the carnival."
The nature of those who endorse Trump versus those who endorse Clinton also play a role in their lack of presence in central Iowa. Trump's endorsements come from more respectable individuals, Masters feels. He cited military generals, law enforcement unions and the United States Border Patrol as backers of Trump.
"Those people," Masters said. "… might have a better idea of what might be happening in the real world than, maybe, Beyoncé."