Editor's note: a previous version of this article stated Coalition of Black Students (CBS) organized the event. Courtnei Caldwell organized the event, with assistance from CBS.
ONLINE EXCLUSIVE BY JAKE BULLINGTON
A student walked past a group of over 60 students lying on the concrete sidewalk and asked, "Why?"
"The tragedy of Terence Crutcher and Keith Lamont Scott," says Courtnei Caldwell, a member of Coalition of Black Students (CBS) . Caldwell organized the event and CBS assisted in marketing and spreading the word about the meaning of Tuesday's demonstration.
Caldwell says all students, regardless of race, are welcome to join events like Tuesday night's 'die-in'.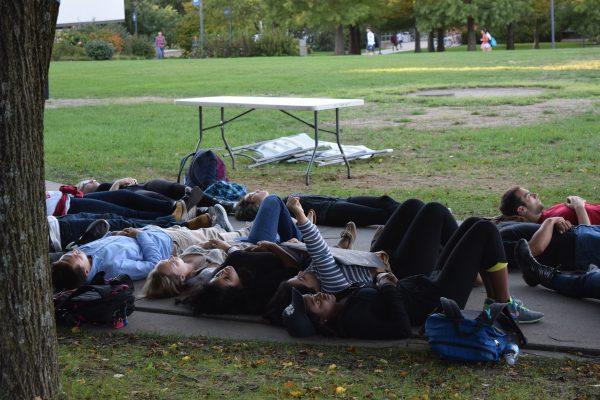 "We need freedom fighters," Caldwell said. "We need allies who are going to stand up with us and not against us, we need that."
Some students intentionally walked over the demonstration, causing frustration among those in the group.
"It just shows how ignorant America is," Caldwell said. "But I make sure that doesn't discourage my work and the work we're going to do."
"There's always going to be someone that … doesn't support everybody's views on everything and there always has to be that person who shows their ignorance," said Jahlovi Slaughter, who was present Tuesday.
Member of the campus community performs spoken word poetry during demonstration of solidarity with those recently killed pic.twitter.com/rmFNjVBNAz

— The Times-Delphic (@timesdelphic) September 27, 2016
"We as a community have to come together and we have to really tell them, 'Hey, open your eyes to these things, because next time it might be somebody that you know,'" Slaughter said.
Another CBS demonstration similar to Tuesday is planned for Friday on campus.