BY DRAKE RHONE
The Des Moines Register partnered with a Drake professor to bring #UniteIowa: The Color of Democracy, a discussion on race relations to Olmsted Center last Friday.
Kyle Munson, columnist for the Des Moines Register and founder of #UniteIowa, planned the event with the help of English professor Carol Spalding-Kruse and Drake seniors Virginia Hill and Brytani Cavil.
Munson has hosted events under the #UniteIowa name before, but it was his partnership with Spalding-Kruse that brought the conversation to Drake.
"We (Spalding-Kruse) began to talk," Munson said. "I appreciated her decade of history in bringing polarized sides to the table in her 'Talking With Your Enemy' seminars. She was a perfect choice as collaborator."
In Friday's event, people were first separated into groups according to issues and then engaged in discussion.
Phrases on posters around the room ranged from 'I think we need to get big money out of politics' to 'I feel like my race is under-represented in politics.'
"You went in, looked at all of them, and decide which one you identify with the most," first-year Isabelle Barrett said.
Attendees were separated several more times according to their political party, their stance on issues in politics, their religion and their race. This led into discussion through these separations.
Ultimately, the discussion attempted to answer one question.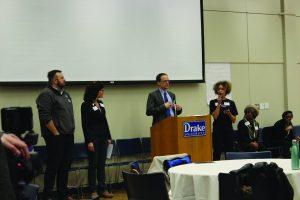 "We answered a question about defining the solution to race in politics," Barrett said. "And we just talked about different ways to possibly change people's opinions on race, and what the government should do about it."
Barrett said that one of her favorite parts of the event was that the conversation stayed friendly, and didn't escalate into arguments.
"People weren't at each other or anything, which was really great," Barrett said. "Everyone was really polite. Our viewpoints differed, but we were willing to talk about it. It's not like we were writing down a solution or anything, but so many people were willing to compromise and say, 'Yeah, I see your point and that makes sense.'"
The discussion was the first of five events in the #UniteIowa on Race series.
"This is a series that connects Drake with the rest of the capital city in new and interesting ways," Munson said. "We began on campus, circle around the metro and then come back to campus May 6 for a major festival with live music and a keynote speaker."
With four events left in the series, Munson said that he encourages all students to become involved in the cause.
His goal is to create a proactive conversation about race, instead of reacting to the latest crisis or headlines.
"Our intention is for people to join the movement and have as much of a voice in it as they're willing to lend," Munson said. "We want participation, feedback, criticism, all of it. "
Students can reach out to Munson with feedback at iowaunited.org, on Facebook at UniteIowa and @uniteiowa on Snapchat, Twitter and Instagram.
The next event, "Clashmates: Race in Schools", is tomorrow at Valley West High School.