Executive elections for the 30th session of Drake Student Senate have begun. Students will get a chance to elect four candidates to the four executive positions: Student Body Treasurer, Vice President of Student Life, Vice President of Student Activities and Student Body President.
There are currently three students who have announced their candidacy for president:
Thalia Anguiano is a junior Law Politics and Society (LPS) and Public Relations double major.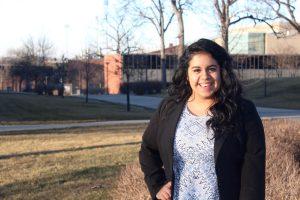 [box]"I don't strive to be the type of leader that just watches things unfold or is complacent with where things are. I want to be a leader that makes things happen and works to find ways to improve our campus. The Drake experience has given me so many opportunities to grow as a student, person and leader and I want to make sure that all students have the same and equal opportunities to grow. I know that this position would allow me to advocate for needs and concerns in ways that they should be, and I know that I would be able to help others even if it is just in the smallest of ways. I care about the student body, and I care about the institution that has granted me with so much and I want to make it better. I hope to be able to immerse myself in areas of campus that I haven't already, as well as create more of an interpersonal relationship with the student body; something that is vital to efficiency of this position."[/box]
Kerstin Donat is a junior International Relations major.
 [box]"Ultimately it is my love and passion for the school and the opportunities that I have had here that motivate me running for the office of the Student Senate President. In my three years, I've seen Drake continuously develop and I am passionate to push growth and necessary change forward. I am driven by the belief that every single student attending Drake should be able to create the best possible college experience for themselves and I would hope that my work as the President of Student Senate foster an environment for such possibility."[/box]