STORY  BY EMILY VANSCHMUS 
As temperatures begin to rise, students are tying hammocks between trees and taking less conventional study breaks. Because of their growing popularity, first-year Audrey Byerley co-founded Hammock Club this fall. She wanted to get together with other students who "hammock" and meet people that she had connections with.
"We wanted people to be able to come and go as they please, as well as meet new people they may not have usually met otherwise," she said. "We really wanted to attract all kinds of people and bring people together because we think that relaxation is a key component of success in college."
Byerley went through Student Senate, but the vote to approve the club was tabled, so they had to jump through a few hoops before Senate ultimately approved Hammock Club. Now, the club is working on gaining a following. Byerley said a common misconception is that students without hammocks at school can't join in.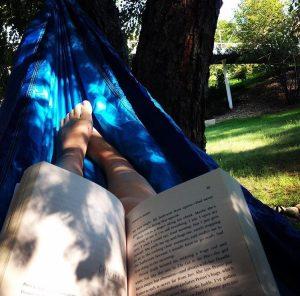 "You don't need a hammock to hang out with us," she said. "It would be great if you did, but feel free to bring a blanket or whatever you want. Everyone is welcomed. Nobody is excluded."
Members of the club get together on warm days and sit and chat. Byerley explained that one of the core goals of the club is adding relaxation to college students' busy and stressful schedules.
"We just talk about our life and create a fun environment for everyone to share their ideas," she said.
The club's growing popularity around campus has been a great way for members to meet people.
"They are a conversation starter for sure, and it is really awesome to see how many people come up to you when you are hanging out around campus and start a conversation," Byerley said. "People have been really interested in it and a lot of my friends have gotten hammocks because they want to join the fun."
The Hammock Club meetings are different from others that might happen around a table or have a specific agenda. Member Lauren McEvoy has a hammock and attends the club's gatherings.
"We usually all just hang out and talk. People will bring their homework or listen to music or watch Netflix. It's really nice just being able to sit outside and enjoy the weather," she said.
Hammocking can be an individual activity, so the club allows people to have this relaxing time for themselves while being surrounded by others doing the same.
"People hammock on their own time whenever and where ever they want but specific times and dates are set up through the club so everyone can hang out together," McEvoy said. "I just enjoy being outside, and it's actually super peaceful to be able to just sit while hanging from a tree."