STORY BY GRACE ROGERS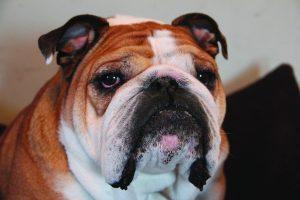 Drake University will soon have a new member leaving their paw prints on campus – literally.
After a year without a slobbering symbol, Drake appointed Erin Bell as the new live mascot coordinator. Bell was the owner of Porterhouse, Drake's last beloved live bulldog.
"It's been a long process to get to this point," Bell said. "After Porterhouse passed away, we started talking to Sandy Hatfield-Clubb, the athletic director, a couple of months after he died. They were just exploring the possibility of having a live mascot program and making that an ongoing thing at Drake. The more we talked, the more we came to the realization that Kevin and I would really like to do it again."
Almost a year later, the Bells will be getting another dog. They will feed, walk and play with the most popular pup on campus.
"We're all very open to different ways of obtaining the right dog," Bell said. "It would be fantastic if it's a rescue dog, obviously with our passion for that it would be amazing for us. And Drake supports that, but we're also open to finding a reputable, good breeder that we trust as a possibility of getting a puppy as well. It just depends on how the pieces fall into place."
The Bells are focused on finding a dog with the right temperament for the job.
"It can be very stressful, so the dog needs to be laid back, approachable, entertaining and really extremely social," Bell said. "We've got to be able to trust it and know that it's not going to snap or get stressed out."
As with any new position, students had some concerns about appointing a live mascot coordinator.
"I don't know if Live Mascot Coordinator necessarily needs to be a position," first-year Jordan McEntaffer said. "I'm worried about future funding because the statement said it would be donations going to the paid position, but then there was nothing else for after that. So I'm wondering how we're going to pay for it after those donations dry up."
While the statement from the university did not give specifics, it did say, "More details on fundraising, and on the process for the mascot search and introduction to the Drake community, will be revealed soon."
"Drake wanted to make it more formal or official by having it a paid position this time," Bell said. "Which is great for us because with our son Carter, there's no way we could do it voluntarily like we did with Porterhouse for five years, just because of the time commitment."
Even with concerns, McEntaffer is still excited for the new live mascot.
"I think it's a great idea to have a live mascot," McEntaffer said. "I've heard from people who were here before Porterhouse died, and they said he was just a morale booster."
"I'm a dog person, so having one that's our school's dog and he's always there was very cool," said senior Amanda Horvath. "I think it will be good to have a live mascot again."
As for the Bells, they're as excited as the students.
"As a student, I think it would be a cool thing to have a live mascot," Bell said. "Especially a live mascot that you can interact with and know and see and pet. I'm very excited to do it again."