STORY BY GRACE ROGERS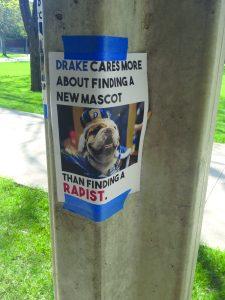 Students at Drake University awoke to find a series of new posters spread across campus last Tuesday morning.
While this is not an unusual occurrence, the strong message of these posters set them apart from others.
They read, "Drake cares more about finding a new mascot than finding a rapist."
"I was definitely surprised to see them," sophomore Anna Van Waardhuizen said. "The wording was very aggressive, and you usually don't see that at Drake."
Many eyes turned to Demand a Better Drake, but the group denied responsibility for the posters.
"I was the first to spot them on campus," team member Rachel Dupree said. "So I contacted the rest of the team to see if anyone was responsible. Everyone said no, and I knew that people were immediately going to think that we did this. Immediately."
Sexual assault discussions have increased on Drake's campus this semester. The Demand a Better Drake team started circulating their petition and the Office of Civil Rights was recently on campus to investigate a sexual assault complaint.
"We did get one message on the Demand A Better Drake page that said the person agreed with what we were trying to do, but not how we were trying to do it," Dupree said. "And they mentioned the posters that were put up. So we felt the need to not only tell that person that the posters weren't ours, but also put out a statement because a lot of people were confused."
The group posted a statement on their Facebook page that read in part, "(Trigger warning) We've heard from a few of you about the posters below and your concerns about triggering survivors of sexual violence with the language used. We absolutely recognize that very legitimate concern and our hearts are with those triggered today. Demand a Better Drake does recognize the importance of holding the administration accountable, but language such as this should and will not be used in the future."
The statement also denied involvement in the posters and offered counseling resources for anyone who may have been triggered.
"We also wanted to put out a statement giving a trigger warning because the person who originally messaged us said that her friend was triggered by the posters, which is very unfortunate," Dupree said. "We referred her to counseling services on campus, so we felt the need to put that out there for everybody as a resource."
"I think that the sentiment behind the posters is a good one," Van Waardhuizen said. "I definitely understand being upset at all of the publicity given to the announcement of a new mascot when there are bigger problems to solve. But I think the way these posters were presented turned a lot of people off."
Drake Public Safety was made aware of the posters and their strong wording, but is not investigating who put the posters up.
Students who were triggered by these posters can find a list of counseling resources at www.drake.edu/sexual-assault.