Story by Hannah Keisker
Photo by Joel Venzke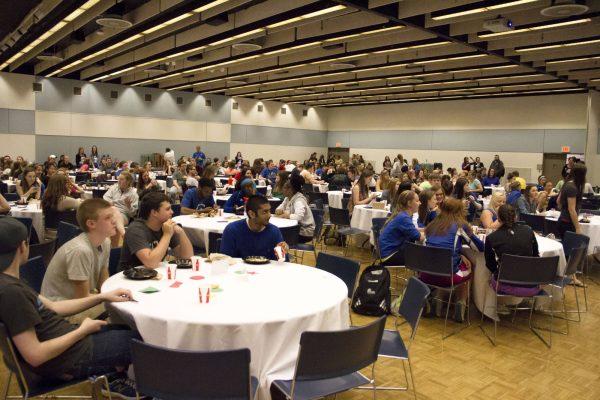 For the Student Activities Board, running the Drake Relays doesn't involve track spikes.
Emily Callen, a sophomore elementary education major, and Ashley Fellows, a sophomore marketing and international relations double major, head the Relays executive board that consists of students interested in helping with an event.
Callen said each student is in charge of an SAB Relays event. The Relays events start with Blitz Day at the beginning of the month and end with a pancake breakfast at the end of Relays week.
"We oversee and approve all the planning, starting from brainstorming all the way to execution. So every little detail you can think of, we're kind of in charge of figuring it out," Callen said.
Fellows said it is important to look at the small details when planning events.
"We get to see that background, and we get to get excited about how students are going to react to it when it happens," Fellows said. "We make sure everything is lined up so when it is presented to the students, they are really excited about it."
Second-year pharmacy student Alissa Tillotson is the SAB band co-chair. She helps choose the bands that come to Drake, coordinates with the agent of the band and plans the concert events.
Tillotson said hiring an artist is a long process that involves a contract to make sure both parties are satisfied.
"Honestly, I think it's less stressful than I thought it would be if you're organized about it. If you try to do everything we do over the course of a semester in a week, then I think it would be really stressful, but we try to be really on top of things and have set office hours to get everything done. I haven't been too stressed out with it ever," Tillotson said.
Callen said keeping all the events a secret is exciting.
"The theme is kept secret. The band for the Court Avenue concert is kept secret," Callen said. "And those are things we've worked really hard on, or we've seen our band's co-chair on SAB work really hard on, so we think it builds suspense and helps get students really excited about Relays. I kind of like keeping it a secret."
The theme for Relays this year is "Snapshots of Excellence" and the artist for the Court Avenue concert is Hoodie Allen. Finding an artist for the concert is a challenge every year.
"It takes a while for that process to go through, and I know especially with past years too — there's a lot of fluctuation with artists. Like I know last year, they didn't lock down an artist completely until about two weeks before," Tillotson said.
Tillotson said it can be a frustrating process to choose a  Court Avenue Concert act. Often,  something will fall through at the last second.
The members of SAB are sure not to forget about the most important part of the Relays: the track events.
Fellows said it is exciting to see the Des Moines community attend the track events.
"We get to kind of show off our school in a sense. I know a lot of people talked about how we're a small school, but it feels like a big school during that week because everyone is always moving," Fellows said.
Callen and Fellows are keeping a tally to see who drinks the most coffee during Relays week.
"We will just be overseeing every event. So we will be at each one for setup, during it and tear down, and making sure everything runs smoothly — probably handling some last minute crisis that we can't foresee," Callen said. "Hopefully, we'll be enjoying ourselves, too, and being able to look at our hard work and see the benefits of it and see that the students are really enjoying it."