Story by Austin Cannon
Photos by Joel Venzke
The Drake softball team hosted a double-header with Missouri State on Saturday. The Bulldogs won the first game, 9-6, but were shutout in the second, 4-0.
Down 4-2 in the bottom of the fifth in game one, Drake exploded for five runs to take a 7-4 lead.
Senior first baseman Liz Buck led off and took first after being hit by a pitch. She advanced to third on freshman left fielder Megan Sowa's double to right center.
Buck scored on Hayley Nybo's single to center, cutting the Bear lead to 4-3.
Catcher Courtney Wood followed and was able to even an 0-2 count to 2-2 before bringing in Sowa with an RBI single to center to tie the game at 4-4.
Second basemen Laura Brewer was the next float on the hit parade. She singled to left to load the bases.
Then, the Bears got sloppy.
Second basemen Ashley Brentz couldn't handle a ground ball off the bat of Jordan Gronewold, giving the Bulldogs a 5-4 lead.
Rebekah Schmidt hit next, and Elena Gambill bobbled her grounder to shortstop, allowing another Bulldog run.
With the bases still juiced, pinch hitter Zeah Peterson came up to the plate, but her ground ball to first was thrown home to force out Brewer.
Shortstop Amy Pierce, the 10th batter of the inning, added on another run, taking a walk to score Gronewold and extending the Drake lead to 7-4.
Buck ended the inning when she lined out to second and Peterson was doubled off at second base.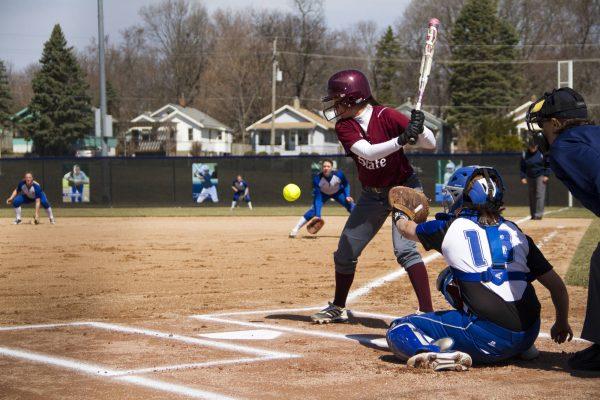 After a scoreless top half, Brewer padded the Drake lead in the bottom of the sixth with a two-run dinger to left, putting Drake up 9-4.
Brewer went 3-for-4 with two RBIs, a triple short of the cycle.
"I haven't hit this well all season, to be honest," Brewer said. "I've just been seeing the ball really well lately."
MSU drew first blood, tagging Drake starter Gronewold for three runs on three hits.
Drake responded in the third with a pair of runs.
Schmidt led off with a double to straightaway center, and Chelsea Blaylock followed with a walk. A Pierce double past the third basemen scored Schmidt, and Blaylock was called safe on a close play at third.
Sowa then chased Blaylock home with a sacrifice fly to left.
Gronewold threw four-and-a-third innings. She gave up four runs on five hits.
Schmidt relieved her in the fifth with a runner on third. That runner scored and Schmidt permitted two more in the seventh, but the Bulldogs held on for a 9-6 victory.
"It was, overall, a good team effort, and I would say it was good for us," Schmidt said. "It was a good team win."
After impressive production in the first game, the Drake offense fell flat in game two.
Drake managed only four hits off MSU's Jessie Van Es, who went the distance for the Bears.
Drake had a chance to get on the board in the bottom of the first.
With one out, Buck reached on an infield blooper over the Van Es's head. Sowa followed and walked, placing runners on first and second.
An error by Brentz on a Nybo ground ball loaded the bases, but Wood grounded into a 5-3 double play to end the inning.
After that, Van Es was dealing, at one point retiring 10 Bulldogs in a row.
"She was a lot slower than the first pitcher, and she threw a lot outside, so that kind of stumped us a little bit and it was just hard to wait and drive through the ball," Brewer said.
The Bear notched two runs off Drake starter Mariah McKinnon in the first. Brentz and Kerri Cunningham reached on a walk and a bunt single, respectively, and Heather Duckworth plated them with a double to right center.
Duckworth struck again in the third, sending a line drive shot over the fence in left center to extend the Bear lead to 3-0.
She then decided that she might as well drive in all the runs with a sacrifice fly in the fifth.
McKinnon threw all seven for Drake. All four runs were earned on nine hits, and she had four strikeouts.
Buck, Sowa, Brewer and Sarah Ryan each collected a hit for the Bulldogs.
The two teams played the rubber match of the three-game series yesterday, and Drake hosts Iowa State on Wednesday.