Story by Austin Cannon
Photos by Joel Venzke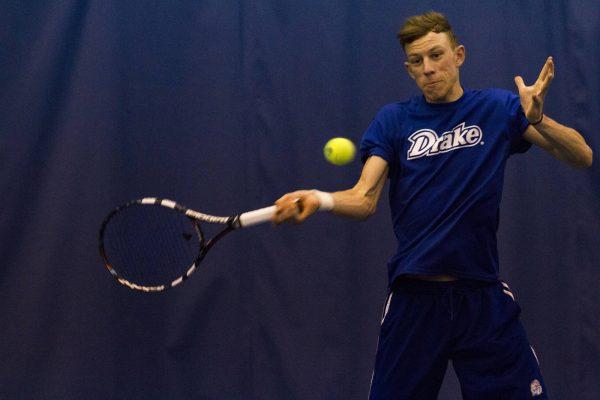 The No. 32 Drake men's tennis team won its sixth and seventh consecutive matches on Friday, beating St. John's, 4-2, and opening its conference season with a 6-1 win over Southern Illinois.
The Red Storm took a 1-0 lead in the morning match off two victories in doubles play.
"We knew it was going to be tough, and they came out on fire almost and took the doubles point quite convincingly," said junior Ravi Patel.
Junior Matt Frost and Patel won their match over Michael-Jean Every and Freddy Ruiz Acevedo, 8-2, to give Drake an early advantage.
However, St. John's refused to waver.
The No. 48 pair of senior Robin Goodman and sophomore Ben Lott fell on court No. 1 to Luca Hejhal and Vaidik Munshaw, 8-6, and juniors Ben Mullis and Alen Salibasic came up short on court No. 2 to No. 74 R.J. Del Nunzio and Erick Reyes, 8-4.
Down 1-0, the Bulldogs needed to win four out of six of the singles matches.
Salibasic evened the score at 1-1, avenging his doubles defeat by besting Del Nunzio handily, 6-1, 6-1.
Lott followed with a victory on court No. 2. He took down Reyes, 6-4, 6-4 to give Drake a 2-1 lead.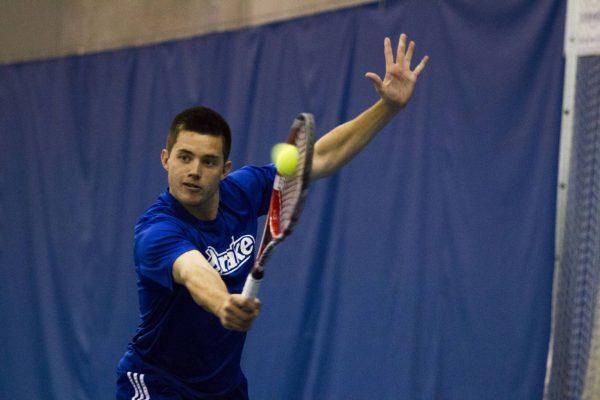 Goodman notched Drake's third straight victory. The senior from Cambridge, England dispatched Hejhal, 6-1, 6-4.
SJU showed a little life when Munshaw beat Frost at the No. 4 spot, 6-4, 6-4, reducing the Drake lead to 3-2.
"We had to battle the whole match, and it wasn't easy to come through. There were stages when we didn't know who was going to win and who was going to lose," Patel said.
That momentum was halted, however.
Patel took the match for the Bulldogs, overcoming a first-set stumble to beat Robert Livi, 2-6, 6-2, 6-2.
Despite the result, it wasn't an easy match.
"It really wasn't simple at all," Patel said. "They put up a good fight."
In the afternoon match, the Bulldogs extended their regular season conference winning streak to 16 matches, dating back to 2010.
In doubles, Frost and Patel again took the initial victory for Drake. They beat SIU's Rafael Caudrillero and Jeremy Dixon, 8-4.
The other two matches were much closer.
Tied at seven games each, Goodman and Lott went to a seven-point tiebreak with Michal Kianicka and Jonny Rigby. The Salukis won the tiebreak 7-2, capitalizing off Drake errors.
That victory soon proved irrelevant, as Salibasic and Mullis beat Jorge Cavero and Szymon Opieczonek moments later, 8-6.
'They were down and up and down in that match. It was quite tough. Thankfully, they came through," Patel said.
Mullis put Drake up 2-0 with a strong victory over Filip Aleksic, 6-0, 6-1.
Frost then took down Opieczonek convincingly, 6-0, 6-2.
Down 3-0, the Salukis managed to notch their lone point of the match when Cavero beat Lott, 6-3, 6-2.
Patel collected his fourth victory of day, this time over Caudrillero, 6-4, 6-1, to clinch the match for the Bulldogs.
Salibasic collected another Drake win at the No. 1 position, downing Rigby, 6-2, 7-6 (3), and Goodman finished the match on a high note, persevering over Kianicka, 6-3, 7-6 (3).
"Towards (sic) the end, we kind of just knuckled down and put it though, but it would've been nice to kind of do that from the start," Patel said.
Drake (16-5) played Denver yesterday and will travel to Illinois State on Saturday.