Story by Ashley Beall
Photo by Joel Venzke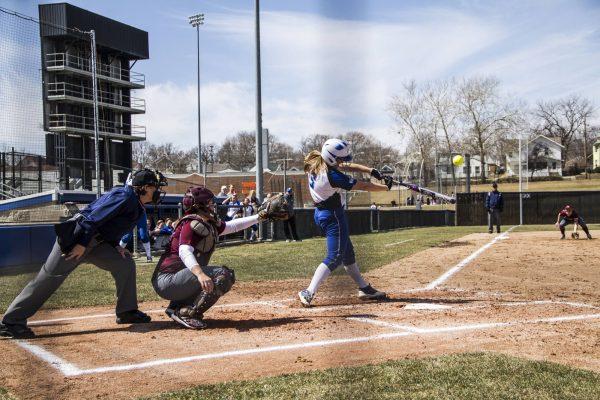 After a tough series against Loyola, the Drake softball team took on in-state rival Iowa this Wednesday and came out victorious, winning 5-3.
"It was really a team effort," said junior pitcher Rebekah Schmidt. "We had runners on base every single inning. We had really good defense. It was such a solid win, and it's always fun to play under the lights."
Schmidt led the way for the Bulldogs from the circle and the batter's box.
Schmidt went 3-for-4 with two doubles and two RBIs.
Schmidt relieved senior Jordan Gronewold, who pitched two innings and gave up four hits, allowing the Hawkeyes to score two early runs. Once Schmidt stepped in, she allowed one run scored and struck out three batters.
Drake scored its first run in the second inning when Schmidt hit a one-out double deep into the outfield, putting Drake on the scoreboard. Senior Amy Pierce then stepped up for the Bulldogs with the bases loaded, smacking single, driving in two more runs.
Junior Laura Brewer had a big game for the Bulldogs, finishing the game 3-for-4 from the plate.
Freshman Megan Sowa continued to make her mark, with  three walks and a run.
"From the beginning, this girl (Sowa) could hit the ball," Schmidt said.
"She's just kind of jumped around the outfield, and she is very versatile and can go anywhere. As far as hitting, she's doing so well. She was middle of the line-up, and now she's three hitter. She's very solid and very consistent, she executes when we need her. It's so great to see a freshman step up because you don't see that a lot."
Iowa was not giving up, though, with back-to-back doubles and another run in the third inning.
It wasn't until the fifth inning that the Hawkeyes were poised to strike back after cutting the gap down to 4-3.
The Bulldogs were able to score another run in the sixth inning, with Brewer bringing Sowa home off of a single to right field. Compared to their previous game against Iowa, the Bulldogs appeared to be a completely different team.
"Everyone had a different mindset going into this game," Schmidt said.
"We had our coaches behind us, and our coach hasn't really sat us down in that manner before like he did for this game. Everyone was just relaxed and like, 'Hey, we want to just have fun.' Obviously, we want to still play intense but it was just a different presence on the field, and I think that helped us a lot."