Story by Ashley Beall
Photo by Jeremy Leong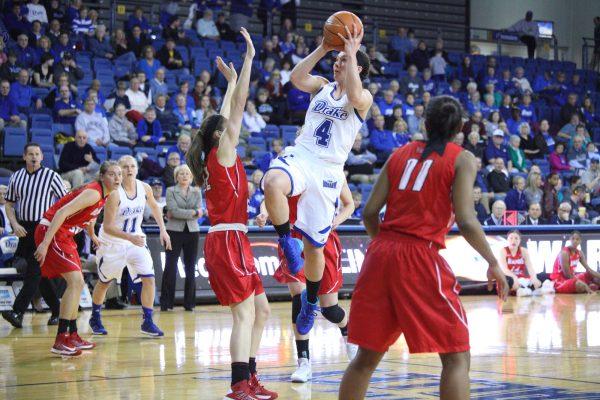 The Drake women's basketball team took on Illinois State this past Sunday at the Knapp Center and left with a win, 67-66.
Drake is now 9-9 in the Missouri Valley Conference and concluded conference play with a win, the last one of the season in the Knapp Center.
"It was a win so that's exciting," said Drake head coach Jennie Baranczyk.
"Illinois State is a great team. I think that they had balanced scoring and really do a great job at getting all the loose balls, and I think that it's something that we need to do a better job, and I think it's something that we're going to continue to work on and at the same time I can really appreciate that we finished out the game. The nice thing is that we got to finish out a game at home with a win to celebrate our two seniors."
In a record-breaking game, Kyndal Clark surpassed the Missouri Valley Conference record of 104 3-pointers in a single season, a record that had stood since 1994.
Clark scored 26 points in the game to set the new single season three point record at 108.
It wasn't just a big game for Clark, however.
Freshman Caitlin Ingle continued to step up, connecting on a few clutch shots for the Bulldogs.
In the final 12 seconds of the game, Ingle scored a layup that pushed the Bulldogs ahead 67-66. Ingle finished the game with 15 points, three rebounds and three assists.
"We've had three different people hit really big shots when it really matters," Baranczyk said.
"One is Kyndal Clark and she's going to continue to do that in seasons to come and two of them are freshman (Ingle and Wendell). When you can have that happen, your future is bright and I don't just mean future as in when they become juniors and seniors, but I mean our future in tomorrow and in the next day, and hopefully that will carry us into this tournament."
Sophomore Ashley Bartow and junior Liza Heap came up big for the Bulldogs on the glass with nine rebounds each.
The Bulldogs seemed to have the game in the bag as the game clock ran out, but after the officials reviewed the play, they decided that there was 0.1 seconds left on the clock.
This gave the Redbirds a chance for one last heave at the basket. However, it wasn't enough as the Bulldogs went on to win.
It was a game of runs for both teams, as the Bulldogs didn't appear to play their best game.
Their offense was weaker than previous games, marked by some poor shooting that had previously not been an issue.
However, that didn't stop them from getting the win.
"It's great to end on a win even if was just by one point and even if we didn't make those runs, and we didn't put all the little pieces together," Clark said. "A win is a win, and we'll take it and we're ready to go to the conference tournament and make a run there."
This game also marked the final home game for seniors Mary Pat Specht and Alyssa Marschner, who were able to share speeches and receive recognition for their time as members of the Drake women's basketball team.
"They are two really special people, especially for me," Baranczyk said.
"Mary Pat could have not come here when I came. She had the option and she still did and has been with our staff the entire time, and then Alyssa Marschner from day one has been like, 'I'm with you,' and when you have upperclassmen that do that, it's going to help with our transition. She (Marschner) is an amazing story and the energy that she has given to this program and this team and more specifically to me as an individual, I will forever cherish."
The Bulldogs head to the conference tournament in St. Louis on Thursday as the No. 5 seed.
Drake earned a first-round bye and will play No. 4 Evansville at 2:35 p.m. on Friday.