Story by Ashley Beall
Photos by Joel Venzke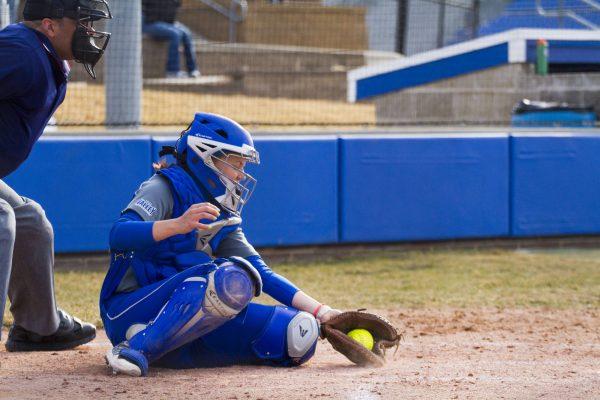 The Drake softball team faced former conference rival Creighton this past Wednesday in its home opener at Ron Buel Field.
The Bulldogs couldn't pull out the win, though, and lost 4-2.
The Bulldogs looked to senior pitcher Jordan Gronewold to start them off. Gronewold struggled early on and only lasted one-and-one-third innings and gave up two runs on four hits.
Drake then relieved Gronewold with junior Rebekah Schmidt. Schmidt was able to work the Bulldogs out of the bind and pitched the rest of the game.
Schmidt gave up two runs and three hits.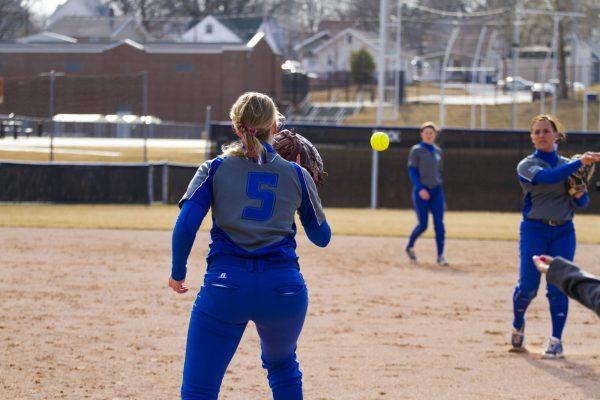 Drake was led by senior Amy Pierce and junior Hayley Nybo, who each had one hit. Freshman Megan Sowa stepped up for the Bulldogs, was for 2-for-4 and scored once. Sowa was the first Bulldog to get a hit.
The game was tied up in the fourth inning 2-2, with Drake almost taking the lead. Drake had two runners in scoring position off a single, a walk and an illegal pitch.
Sophomore Mariah McKinnon pinch ran for senior Megan Wood and scored for the Bulldogs, bringing the score 2-2.
After McKinnon scored, Sowa came up to bat and hit a line drive straight into right field, and the score stayed tied up at 2-2.
Creighton, 19-10, came out strong in the eighth inning, scoring two runs off of one hit.
Creighton started off the inning with a walk and a hit and both were able to score, taking the lead 4-2.
Creighton was led defensively by pitcher Becca Changstrom who struck out eight Drake batters and only allowed four hits. Senior Ellen Homan led Creighton offensively with two RBIs.
Drake is struggling. The Bulldogs are 6-20 in overall play and 0-3 in the Missouri Valley Conference.
Drake traveled to Loyola this past weekend and played one game on Saturday and had a double-header on Sunday.