Story by Ashley Beall
Photos by Jeremy Leong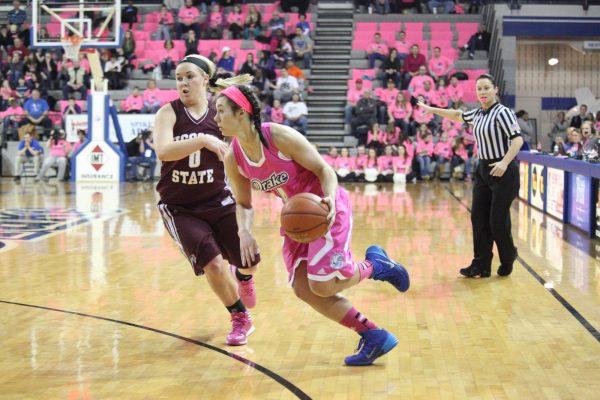 The Drake women's basketball team traveled to Bradley Saturday and won 94-71.
Drake is now 7-7 in Missouri Valley Conference play, winning six out of its last seven games.
Once again, Drake's freshmen stepped up. Lizzy Wendell scored 25 points, and Caitlin Ingle had a double-double with 15 points and 11 assists. This marked Ingle's second career double-double.
Junior Kyndal Clark continued her hot streak with 20 points against the Braves.
Clark scored six three pointers and has hit 90 three pointers so far this season. No one has made this many three pointers since Drake's 1996-1997 season.
The Bulldogs never let the Braves get ahead. They came out hot, taking a 12-2 lead into the first official timeout.
At one point in the first half, the Bulldogs were ahead by 31 points.
Things didn't change in the second half when the Bulldogs never let the Braves get closer than 20 points.
"We ran our motion offense and tried to get better," said Drake head coach Jennie Baranczyk in a Drake athletics press release.
"They ran multiple defenses at us with some man defense and some motion. We did a great job of getting good looks, but we did have some turnovers from the change-ups they threw at us. That's something we need to get more consistent on and eliminate those mistakes."
In the first half the Bulldogs played good defense, only allowing the Braves to score 23 points.
Drake also forced 12 Bradley turnovers, scoring 14 points off them.
Drake netted 15 3-pointers throughout the whole game and finished with a 55.6 shooting percentage.
The Bulldogs played Loyola Sunday and return to the Knapp Center Sunday, March 2 to host the University of Northern Iowa at 2:05 p.m.