Story by Nicole Dohm
File Photo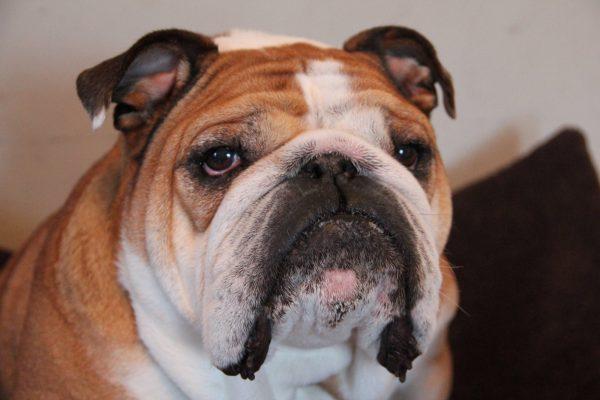 Drake University's beloved live mascot, Porterhouse, passed away in late December.
Porterhouse touched the hearts of Drake students everywhere and continued to when the news  of his passing broke.
A blog post titled "I'm An Angel Now," shared the news with the world. It was written from Porterhouse's point of view.
"I had more friends than most humans, and I love each and every one of you with my whole heart.  As the official live mascot for Drake University, I was given a student body that truly adored me and treated me like a celebrity. I loved the students more than anything and I will truly miss them," the blog, typed by his owners Kevin and Erin Bell, said.
"I was saddened when I heard about Porterhouse," said first-year Nik Wasik. "It really hurt because I had lost my own dog two days before and I felt empathy for Porterhouse's family."
"I feel that when Porterhouse was seen at the sports events, he brought this goofy vibe with him. Everyone was happy to see him and he was happy to see them.
Sophomore Amanda Hennen echoed Wasik's sentiments.
"My initial reaction to hearing the news about Porterhouse was definitely sadness because he is such a big part of Drake University and the college experience as a whole," Hennen said.
"Everyone I know, including myself, was so excited to go to the basketball game to get a picture with him and to see him run across the floor chasing after a basketball."
Hennen's favorite memory of Porterhouse was his playtime in Helmick Commons with his siblings, Oreo and Magoo.
"Playing ball with him and Spike was an experience I will never forget. He will always be missed and loved by all Drake students and alumni," Hennen said.
First-year Kayla Schween said the loss of Porterhouse saddened her on several levels.
"I was genuinely sad and heartbroken," Schween said. "Porterhouse was such an integral part of the Drake community that I felt a personal sense of loss. I felt so bad for his family to deal with his death right around the holidays. Meeting him for the first time was really special. You hear so much about him that to actually meet him in person is like meeting a celebrity."
In the blog post, Porterhouse leaves Drake students with some final last words: "Thank you … from the bottom of my bullie heart … for loving me and being so wonderful to my family.  It means more than you will ever know. I had the best life and I went to heaven on my own terms — drama free.  Sending you lots of love, now and forever."