Story by Courtney Fishman
Photo by Luke Nankivell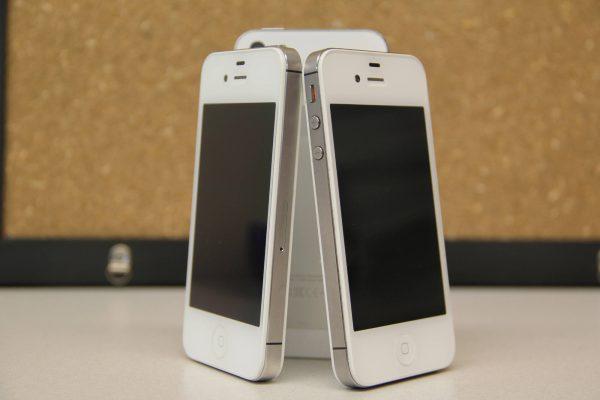 Apple Inc. is set to announce two new iPhones today — a high-end version and a lower cost model — at their press conference in Cupertino, Cal.
With new versions coming out each year and a high price tag, is it worth the money to get a new phone so frequently?
Sophomore pharmacy major Jonathan Kusnierz doesn't think so.
"My phone works fine, so I don't need a new one," Kusnierz said. "But I get that desire because everyone wants something better in their lives."
However, unlike Kusnierz, many iPhone users are anxiously awaiting the arrival of the iPhone 5S and 5C.
"From personal experience, mobile users like having the biggest and the best," junior computer science major David Murley said. "Apple does well having the newest thing or the best thing on the market."
According to USA Today, Apple's newest feature on the 5S is finger authentication. No more passwords or swiping will be needed to access your phone with this new technology.
"I think it (finger authentication) attracts a lot of on-the-go people, college-age people, who don't sit down and type a lot of stuff," Murley said. "I used to have a laptop that had a fingerprint scanner, and it made it really easy to use."
But finger authentication comes at a cost, and Maynard Um, a Wells Fargo analyst, estimated to USA today that the phones price will range from $525 to $575.
Sophomore Joel Venzke plans to buy an iPhone when his contract ends, but the steep price tag might keep him way.
The iPhone 5C, also set to be announced today, is Apple's first lower-end model. The phone is expected to come in different colors and may only hit the China markets.
"I think it will do wel,  as it'll be nice for people that can't afford the new iPhone. They'll have something to turn to," Venzke said.
Murley also believes the 5C is a successful strategy.
"I think that Apple is making a good decision to reach a broader market. … I know a lot of people don't buy the product because of the price," Murley said.
Where Murley and Venzke disagree is what will be lost with the price cut.
"You'll definitely lose a lot of features, especially hardware. I think people that are only wiling to spend $200, $300 will expect that though," Murley said. "So, while it might effect the Apple image of always having a pristine product. I think it will do good."
"I'm not sure if they'll be sacrificing a lot," Venzke said. "If they're using the same systems as they've been using for the iPhone 5, then it won't be much different."
So what features should be included in Apple's new release?
"A better battery life compared to my phone would be really nice and make it a little easier to use," Kusnierz said.
Venzke said the phone should stay practically the same, but have faster Wi-Fi and an upgrade in the camera.
But Murley thinks Apple should make its software more customizable.
"One thing I like about the Android phone I have is that I can do pretty much what I want . … I think if Apple opened it up, they would attract more of the extremely techy people," Murley said.