Story by Nathan Erickson
Photos Courtesy Rachel Paine Caufield
This past weekend, the 36th annual Harkin Steak Fry, a signature events for Democrats across the state, was held in Indianola, Iowa.
Senator Tom Harkin, a five-term representative and senator since 1984, started the Steak Fry tradition in an untraditional way.
During Harkin's first run for the U.S. House of Representatives in 1972, the Steak Fry idea emerged as a simple way to "meet with neighbors and talk politics."
Speaking to the audience this past Sunday, Harkin's wife, Ruth, described the setting of the first fry.
"We had it on a little hill at a (local farm), steaks were two dollars and of course, there was cold beer for everyone," Ruth Harkin said.
After joining in the audience's amusement, she said, "There may have been about 50 people there."
So began the Steak Fry tradition, becoming an annual event shortly after Harkin's successful 1974 House race.
Over the years, it has grown in size and popularity, moving locations numerous times.
Wrapping up her short speech, Ruth Harkin said, "Now we invite democrats from across the country to speak" on a variety of issues.
Over the years, the Steak Fry has featured presidential candidates, presidential hopefuls, personal friends of Sen. Harkin and many other influential members of the Democratic Party.
It offers Iowa Democrats a glimpse of future presidential candidates and serves as a testing ground for candidates to gauge public interest in advance of Iowa's "first in the nation" caucus event.
First on the list of prominent figures was current U.S. Congressman Bruce Braley, running for Senator Harkin's vacant senate seat in 2014.
He gave a short speech thanking his family, recounted some "great accomplishments" of Harkin over the years, including what some consider his greatest feat, the Americans with Disabilities Act.
He also explained his goals if elected to the U.S. Senate.
Next on the agenda was Senator Harkin himself.
Harkin endorsed Braley, clasping hands with Braley and raising arms together over the podium.
In a short speech, he thanked his wife, highlighted all the Iowa Democratic candidates and reviewed some of his work over the years.
After Harkin's speech, it was on to the first marquee guest, San Antonio Mayor Julian Castro.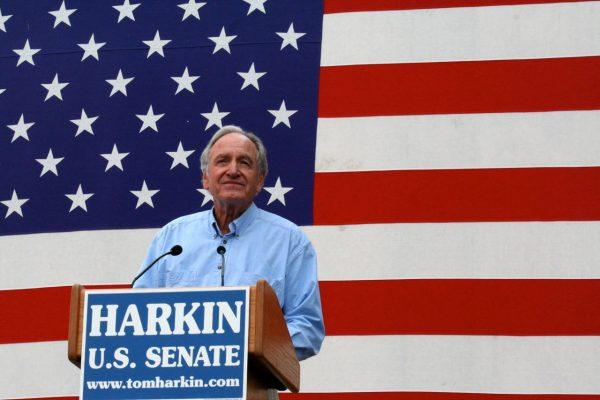 Harkin introduced Castro as one of the Democratic Party's rising stars, saying, "Many people see this young man as the future of our party."
Castro gave Iowans a little background about himself and his journey to achieve an education through the investment of the "American people" in the form of student loans.
Castro also touched on a host of other issues including the global economy, veterans rights, healthcare and the pursuit of the American dream
"That's what is great about this nation. That is the blueprint for success in the 21st century," Castro exclaimed near the end of his address.
Finally Vice President Biden took the stage, giving a charged and lengthy speech on "the measure of [the United State's] success." Biden spoke about all the accomplishments of the Obama-Biden administration, saying that "the president and I have focus on one thing: raising up the middle class."
Biden also stated President Obama was "the reason why the international community is finally facing up to this hideous prospect" of chemical weapons in Syria.
While many present in the crowd were there to see a presumed front runner for the Democratic nomination for president in 2016, some were there solely to meet the Vice President.
Claire Herbst, a first year pre-pharmacy student at Drake, found out about the event in her first year seminar course, Modern American Politics: On Screen.
She said that upon finding out about the Harkin Steak Fry, "I started bouncing up and down. I was really excited. No candidates really come to my hometown, so when I found out the Vice President was going to be that close, I became really excited"
Herbst really enjoyed Biden's personal touch at the end of the speech. "He took the time to go through the line and shake everyone's hands and take pictures," she said.
This experience has definitely made her more aware of politics in general, and she said that she now has mixed feelings on where she will vote.
"I'm really debating between voting absentee in Missouri, or being able to vote in Iowa on issues that actually affect me." She said that it was definitely an experience she would do again.
Overall, the Harkin Steak Fry is an event quite like any other. It is foremost a fundraiser, but also provides a stage for candidates and elected officials to make themselves and their issues known. It can give people a first-hand account of American politics, expose new voters to party elite for the first time, and bring voters together to hear about issues that are important to them.
Not too bad for an event that started with $2 dollar steaks on a farmer's hill in rural Iowa.