Story by Taylor Soule
Photo by Luke Nankivell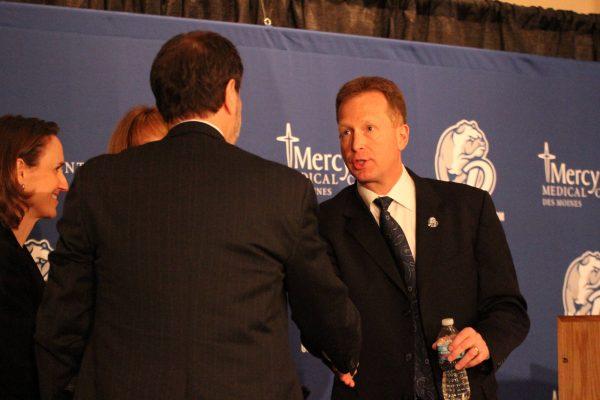 Ray Giacoletti had several chances to leave Gonzaga over his six years as assistant men's basketball coach. Chances to return to the helm of a Division I program. Chances to apply the success at Gonzaga to a new program. Chances to rebound from his 2007 release as head coach at Utah.
That chance came the week of March 4, when Drake University Athletic Director Sandy Hatfield Clubb called Giacoletti about the head coach vacancy. Her passion for Drake caught his interest instantly.
"I was blown away," Giacoletti said. "I had to go to film right after that, and all I could think about was my conversation with her, her excitement in doing things the right way."
That call paved the way for Giacoletti to take the helm at Drake this past Thursday. On the court, he pledged to win the rebound war and score easy baskets. Off the court, he pledged to draw more players from the Midwest and immerse Drake student-athletes in the Des Moines area.
When Hatfield Clubb announced him as head coach, Levitt Hall erupted in a chorus of cheers and claps. Giacoletti gestured to silence the crowd and opened his Bulldog tenure on a funny note.
"Hopefully, you're all this happy after the first loss because there's going to be one somewhere down the road," Giacoletti said to chuckles from the crowd.
Giacoletti comes to Drake from Gonzaga University in Spokane, Wash., where he compiled a 163–41 record over six seasons as assistant coach under head coach Mark Few. The Gonzaga Bulldogs boasted six consecutive NCAA trips under Giacoletti, too.
Giacoletti came to Gonzaga with 10 years of head coaching experience. In his first season as head coach at Utah, most notably, Giacoletti compiled a 29-6 ledger en route to a Mountain West Conference Championship and an NCAA Sweet 16 berth in 2005.
He said he hopes to apply the Gonzaga approach at Drake. Though Gonzaga offers a model of a powerful program, Giacoletti stressed that the Bulldogs must strive to create and reach Drake-unique goals.
"I have been at one of the most successful programs in the country and watching how they were able to put it together, I can hopefully bring that to Drake and to be the best Drake can be," Giacoletti said. "Not try to be Gonzaga, not try to be somebody else, but let's be the best Drake can be."
To build a strong Bulldog program, he vowed to build a strong defense that forces turnovers. On offense, Giacoletti vowed to win the rebound war, a war Drake lost in the 2012-13 season. The Bulldog offense averaged just 8.0 boards per game to rank ninth in the Missouri Valley Conference last season.
Giacoletti stressed the impact of rebounds en route to wins.
"The team that outrebounds its opponent each night wins 80 percent of the time," Giacoletti said. "That's an amazing thing, just on one aspect of the game."
Beyond game day, he pledged to focus on Iowa talent first, then extend the search to the rest of the Midwest. The Bulldog roster owns just one Iowa player.
Giacoletti said he plans to draw high school stars who can build the program over four or five years as Bulldogs, thanks to the redshirt route.
"You get to the point where you are redshirting two guys a year, now you are really building a foundation," Giacoletti said. "That takes time, though."
As he starts his time as a Bulldog, Giacoletti said Drake is the ideal place to develop his craft as a coach and develop a team hungry to lead the MVC.
"As you grow and get more experience, you try to find, 'How can I make the biggest impact in that situation, and what kind of situation does that have to be?' and Drake is that place," Giacoletti said. "It's a place that, I think, has a real opportunity to grow the basketball program."