Column by Dominic Johnson
The firing of Mark Phelps has Drake University and Director of Athletics Sandy Hatfield Clubb looking for a new head basketball coach, and like any coaching change, it gives the program a great opportunity to improve. Drake hasn't had the best record in hiring successful coaches in the past, making this hire all the more important. Overall, there has to be a number of changes for the Bulldogs to become a successful basketball program that can draw 7,000 fans to the Knapp Center for each game.
First off, Drake needs to hire a coach with a more exciting brand of basketball than what has been exhibited in the Knapp Center for the last five years. There are two ways to get fans in the stands: One is winning and the other is to play fast-paced, run-and-gun basketball. To expect a coach to come in and rack up 20 or more wins in his first year might be a little far-fetched, but Drake needs to find a way to start getting fans back in the Knapp Center. A team that pushes the pace, has the green light to shoot the ball and shows a lot of life in the half-court offense will keep the fans' attention even if the team doesn't make the NCAA tournament each year. Did you see Florida Gulf Coast play this weekend? That's what I want!
Finally, the administration needs to be willing to pay more for a better coach. After all, college basketball is a business, and you get what you pay for. 2010 was the last time Drake released information about Mark Phelps' salary, and three years ago it was at $275,000. In comparison, Creighton's Greg McDermott makes $1.35 million a year and Wichita State's Gregg Marshall makes $900,000 a year. Only Drake, Evansville, Indiana State and Missouri State pay their coaches less than $300,000 a year. None of those teams made the NCAA tournament this year, and only Indiana State made the first round of the National Invitational Tournament. Whether or not Drake has the money to invest in the program is another question, and one that a private institution doesn't have to disclose.
Now, I'm sure you're asking, "Why would Drake put so much money into a new coach and the men's basketball program anyway?" Because men's basketball is an amazing recruiting tool for the entire university. It's the only way Drake could ever hope to reach millions of viewers each year during March Madness. Let me elaborate further. You and millions of other people created a bracket last week. You and millions of other people were tuned in to one of four channels to watch college basketball last week. Heck, you may not even care about college basketball, but you are still paying attention, right? Just ask Creighton and Butler how their schools are benefitting from basketball success.
Now I want to spend some time looking at six different coaches that Drake fans are talking about.
1) Ray Giacoletti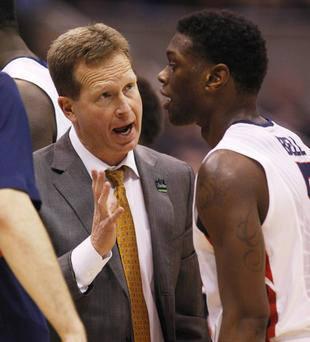 Ray Giacoletti is currently an assistant coach at Gonzaga University, but before that he was the head coach of the Utah Utes. Giacoletti fascinates me, because he is the only option that has coached his way to the NCAA Sweet 16. In 2005, Giacoletti led the Utes to the Sweet 16 and a national ranking of No. 14 due in large part to former head coach Rick Majerus' players, including the 2005 Naismith Award winner and No. 1 overall pick in the 2005 NBA Draft, Andrew Bogut. Once Bogut left, the Utes program fell apart under Giacoletti. The Utes went 14-15 in 2006 and 11-19 in 2007, which led to Giacoletti's resignation. Personally, I think the Bulldogs should look for a coach that can build a program, not tear it down.
 2) Steve Forbes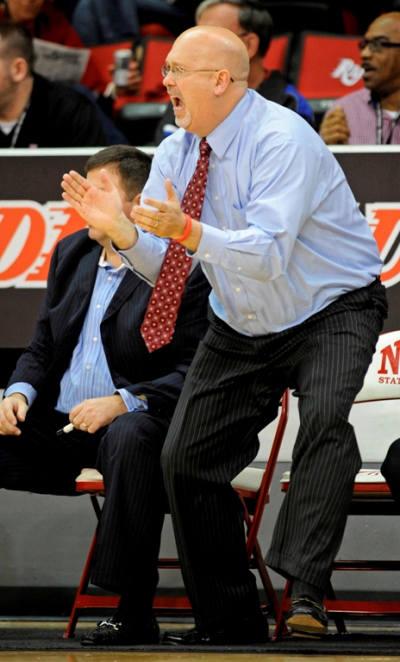 Steve Forbes is the current head coach of Northwest Florida State, a junior college in Niceville, Fla. Forbes just finished his second year as the head coach of the Raiders, and he has already turned the team into a powerhouse. Forbes has led his team to national championship games in both of his years there. Forbes also has Division I experience as an assistant coach at Idaho, Louisiana Tech, Illinois State, Texas A&M and, most notably, Tennessee. FOXsports.com ranked Forbes the eighth best assistant coach in the nation during his time with the Volunteers. Then why isn't he a head coach at the Division I level? That's where the problem arises with Forbes. He was an assistant coach under former Tennessee head coach Bruce Pearl, who was dismissed due to NCAA rule violations stemming from a cookout at Pearl's house involving Ohio State point guard Aaron Craft back when he was a junior in high school. When Pearl was fired, the NCAA handed Forbes a one-year show-cause penalty that would bar him from recruiting if he were to be hired by another Division I school. The very fact that the NCAA stated that Forbes "failed to fully cooperate" its investigation of Pearl will bring up a red flag for Hatfield Clubb.
 3) Darian DeVries
Darian DeVries is an assistant coach at Creighton University, and he has been with Creighton for 15 years now. This makes DeVries the longest tenured men's basketball coach in the Missouri Valley Conference, which is a great strength to have. He clearly knows the ins and outs of the Valley, and being on Creighton's staff means he is accustomed to winning. Before becoming a graduate manager at Creighton, DeVries was a guard for the Northern Iowa Panthers. The biggest issue I have with DeVries is that he has no head coaching experience at any level. His 15 years at Creighton could also be seen as a negative. Why hasn't he made the jump to head coach yet? Why don't other schools want him? There were rumors that DeVries almost got the Drake job back in 2008, but Hatfield Clubb chose Phelps instead.4) T.J. OtzelbergerT.J. Otzelberger is currently the associate head coach for Iowa State, and he is a key component to the Cyclones' success under head coach Fred Hoiberg. The first thing that sticks out about Otzelberger is that he has been the main recruiter while the Cyclones have brought in All-Big 12 talent and made the NCAA tournament two years in a row using an exciting, run-and-gun offense. The one glaring issue is that Otzelberger is likely to be a very hot commodity this offseason, and Drake may not be the most appealing option giving him a call.
5) Nick Nurse
Nick Nurse is the current head coach of the Rio Grande Valley Vipers of the NBA Developmental League. Des Moines natives may be familiar with the name, as he led the Iowa Energy to a D-League championship in 2011 and was named Coach of the Year. Nurse is an Iowa native who has also had success in professional leagues across Europe, and he would likely bring a more exciting style to the Bulldogs. The issue is that Nurse hasn't worked with an NCAA team since 1995, when he was an assistant coach with South Dakota. He was set to be Greg McDermott's associate head coach in 2010, but McDermott was let go by Iowa State and became Creighton's head coach. The biggest question mark next to Nurse would be his ability as a recruiter.
6) Barclay Radebaugh
Speaking of building a program, Charleston Southern's head coach, Barclay Radebaugh, was thrown into the rumor mill on Monday afternoon. Radebaugh has no NCAA tournament appearances and only one NIT appearance, but he has shown that he is capable of improving a program. The 2012 Big South Conference Coach of the Year had a nine-win team in 2009, a 13-win team in 2010, a 16-win team in 2011 and a 19-win team in 2012. This season, Radebaugh was one win shy of reaching the NCAA tournament, as Charleston Southern lost in its conference tournament final to Liberty.  He isn't flashy, but I find his steady improvement more appealing than Giacoletti's collapse at Utah.