Photos: Carter Oswood
Snookies is a big name in Beaverdale now, but it had a small beginning. Owner Marilyn Caves said that it all started when she and her husband were both teachers and were looking for a way to supplement their salaries.
Marilyn Caves' husband loved ice cream. And He used to drive trucks as a second job.
"He knew where every Dairy Queen or little, small ice cream shop was on his route," Marilyn Caves said. "We thought, 'Oh, that would be a good summer job for teachers.'"
After four years of searching for a location, along came Snookies Malt Shop. The Caves have owned Snookies for 27 years. The past few years have brought rumors of the shop closing for good, but that's not quite true.
"This year is our last year — Jim and Marilyn," Marilyn Caves said. "But it will remain a Snookies. And we have people that are very interested in it. The people we're looking at want to keep it just like it is, which we thought was important for the neighborhood."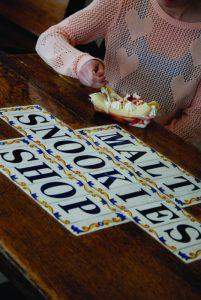 Staying open is good news for Beaverdale residents, both for their ice cream and their neighborhood traditions.
Locals are known to camp out overnight in order to be the coveted first customer of the season. The tradition started when Marilyn Caves created a poster in her classroom with the picture of a family that had been the first customers for three years in a row.
That sparked a competition in the Beaverdale neighborhood, with rules set by the community — if you are not blocking the door, someone can step in and you'll lose your spot as first customer.
"They stay all night," Marilyn Caves said. "Someone in the family will run hot drinks over to them or give someone a bathroom break… They start putting up tents."
This year's first customer camped out starting at 3:30 p.m. on Friday. Their reward? One free ice cream and a picture to be displayed in the store for the entire year.